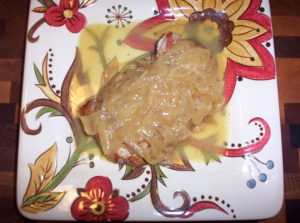 Low Carb Sautéed Chicken In Buttery Vinegar. Interesting story here. I first made sautéed chicken in buttery vinegar somewhere in about 1993. Back then it was with turkey medallions but my recipe is the same otherwise. I made it over and over because not only was it fantastic, it was also very easy. The only recipe I was able to find was Saveur Magazine's Grilled Turkey With Cracked Pepper, Caramelized Onion, & Vinegar who gave credit to chef Mary Sue Milliken of the TV program Two Hot Tamales fame and who can remember everything? I may have seen the recipe on the show. I would never question the origins of this recipe and I am putting it up because it is so good. I am subbing chicken for turkey and of course if you want to use turkey-go for it. The cool thing is, I wasn't thinking about low carb well over 20 years ago but sometimes…I was eating that way.
For a list of products you may not be familiar with and used on this site, please read Low Carb Pantry Essentials. I am NOT sponsor-compensated for recommending a product that I use*** And here, in one tidy package, are over 550 Keto~Paleo~Low Carb~Diabetic Chef's Recipes
As I am a Type II diabetic, all recipes on this website are low carb and diabetic friendly.
Sautéed Chicken In Buttery Vinegar
2016-02-01 08:47:59
Ingredients
6 Large Boneless Chicken Thighs (Pounded To Flatten)
2 T Olive Oil
8 T Cold Butter Divided
2 Medium Onions Thinly Slivered
1½ C Water
1 C White Vinegar
2 t Chicken Base
Fresh Cracked Pepper
Instructions
Put olive oil in skillet over medium heat, add onions and cook until beginning to turn golden brown.
Add vinegar, bring to a boil, & reduce by half. You should end up with something like an oniony sludge.
Add water and chicken base & reduce a bit more.
Remove from heat and 1 T at a time, swirl in 6 T butter until sauce has thickened.
Add lots of cracked pepper.
Meanwhile in a large skillet heat 2 T butter to nearly brown and quickly sauté chicken.
Plate, spoon sauce over chicken and yes, add more cracked pepper.
6 Servings
371 Calories, 39.5g Protein, 22.0g Fat, 3.7g Carbs, .7g Fiber, 3.0g Net Carbs
Notes
You may easily substitute chicken breast medallions but in my opinion, dark meat is much better than white.
Low Carb Scams https://low-carb-scams.com/