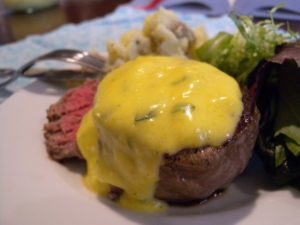 Low Carb Sauce Béarnaise. In the summer of 1972 in East Lansing, MI I had the opportunity to live in a house with 5 HRI (hotel, restaurant, & institutional management) students and I jumped at it. It was the responsibility of each of us, one day a week, to shop with $10.00, prepare a meal for 6, and all sit down together to eat. Talk about the good ole days-can you imagine feeding 6 college students on $10/day now? Someone made this recipe and I have been making it ever since. My only tweak has been the addition of the tarragon vinegar. The reason I like it is that it is made in a food processor rather than over a double boiler of hot water. This is so much much easier and pretty much full-proof if your butter is hot enough. The French make this sauce so much harder.
The absolute secret to this particular béarnaise is the use of tarragon vinegar. I do add lemon juice to mine because I often enough serve it with seafood but I find the lemon juice goes with about anything.
Good enough on a brick but better yet with a good steak or Stuffed Shrimp.
As I am a Type II diabetic, all recipes on this website are low carb and diabetic friendly.
Sauce Béarnaise
2014-02-03 12:02:27
Ingredients
Ingredients
3 Large Egg Yolks Room Temperature
1 Stick+3 T Butter
1 Minced Nice Sized Shallot
¼ C Tarragon Vinegar
¼ C Water
½ t Dried Tarragon Leaves
Pinch Cayenne Pepper
¼ t Tarragon
2 T White Wine
2 T Lemon Juice
¼ t Salt
Directions
Start to slowly clarify butter-if you do it slowly it will not sputter & spatter and as it begins to clarify swirl the saucepan several times.
Mince Shallot, add to vinegar & water, add ½ t tarragon and cayenne pepper and simmer ever so slowly. The idea is the get the minced shallot very soft. If you need more moisture add a bit more vinegar. When this is finished it should have just a little moisture left-maybe a T or so.
Put egg yolks and white wine in small processor & add shallot mixture.
Strain butter to get rid of the little cruddy buttons and immediately begin slowing pouring into running processor. It should thicken toward the end if your butter is hot enough so make sure you take butter from the stove, strain, and begin using immediately. The idea is that the very hot butter will "cook" the yolks and thicken them.
Add lemon juice, last ¼ t tarragon, salt, and process. Taste and correct seasoning if necessary.
4 Servings
326 Calories, 2g Protein, 35.0g Fat, 1.5 Carbs, 0g Fiber, 1.5g Net Carbs
Low Carb Scams https://low-carb-scams.com/