Low Carb Roast Beef Hash. Roast Beef Hash is an inside restaurant secret. Prime rib (and most meat) is not nearly as good when reheated and restaurants have struggled with this for a long time. If you are an early bird restaurant goer do not order the prime rib or at least ask if it is from the prior day. There are chemical reactions going on which can not be avoided. The actual term is "warmed-over flavor". (WOF) One of the ways to mask this reaction is by adding herbs, spices and other ingredients. I don't make this often but I do when I have leftover (mine would be rare) prime rib. This is a relatively simple meal and you will need one recipe of Brabant "Potatoes, Caramelized Zucchini or as I used, daikon radish, as your potato substitute. So, another restaurant secret? They make more money selling prime rib in hash than they do selling a slab of it at dinner. The really sad news is that they now cut off the fat cap surrounding the top of the roast so if you know your butcher ask for the cap to be left on-it's what I did as you can see in the 2nd picture. Not only does the cap protect the meat from overcooking…it tastes fantastic. For me, eating the roasted fat is like eating diabetic candy. Remember that as you spice your prime rib-those same flavors will go into your hash and I say to simply use salt & pepper. If you prefer your left over prime rib cold then here is a recipe for Roast Beef Spread.
For a list of products you may not be familiar with and used on this site, please read Low Carb Pantry Essentials. I am NOT sponsor-compensated for recommending a product that I use*** And here, in one tidy package, are over 550 Keto~Paleo~Low Carb~Diabetic Chef's Recipes
As I am a Type II diabetic, all recipes on this website are low carb and diabetic friendly.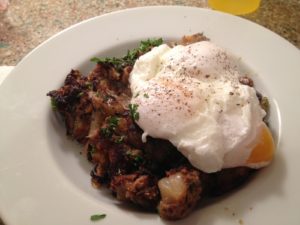 Roast Beef Hash
2015-02-06 07:32:05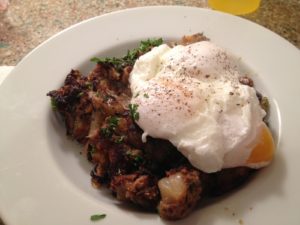 Ingredients
1 Recipe Brabant Potatoes, Caramelized Zucchini, Or Daikon Radish Wedges
4 C Trimmed Beef (Any Beef-Does Not Have To Be Prime Rib)
2 C Medium Diced Onions
Oil (Your Choice And I Use Tallow)
Salt & Pepper
12 Eggs
Instructions
If using daikon radish sauté in fat.
Lightly process trimmed beef and put into a large bowl.
Dice raw onions & add to beef.
Add vegetable of choice.
Add oil, salt & pepper and toss all to mix.
Quickly fry hash in a very hot large skillet.
Fry eggs two at a time and serve atop hash.
6 Servings
466 Calories, 30.6g Protein, 21.7g Fat, 8.4g Carbs, 1.7g Fiber 6.7g Net Carbs
Notes
I have included ½ C fat in the nutritionals and as I said it is the oil of your choice. Some for frying the eggs and the rest for the hash. If you use beef fat as your oil to fry, get it hot and then add hash.
This should be cooked and served quickly.
Have leftover corned beef? It's a great substitution.
Addendum To The Notes
I got the sweetest email from a couple and I am going to share it with their permission. Just goes to show (me) how many people all over the country appreciate the site. I get emails all the time but this one seemed particularly nice. So here it is in its entirety, uncut and unedited.
Deborah,
My wife & I discovered your website a while back and want to thank you for all the wonderful and delicious recipes. We have made many, particularly the carbalose bread (now a staple in our house), coleslaw, primal gravy, and over Christmas your New York cheesecake to name a few. What's great about your site is all the recipes, as well as, the suggestions and comments. It makes adopting a LCHF lifestyle very easy and with no regrets.
Over the weekend I came up with a suggestion to share with you. I am a huge fan of corned beef hash, either made fresh or out of a can (yes, I know). I have tried making it with radishes or your Brabant potatoes ( which were good) and the results were satisfying. However, the other day I had an idea. We are fried cabbage junkies in this house, chopped small and sautéed to a light caramelization. I thought why not combine the cabbage with corned beef? Holy crap – home friggin run!!!!! Made hash with two fried eggs and was ready to die a happy man! The combo of the cabbage and a can of Hormel corned beef is a match made in heaven.
Just wanted to share this with you and take a moment to say thanks.
F & D WI
Low Carb Scams https://low-carb-scams.com/