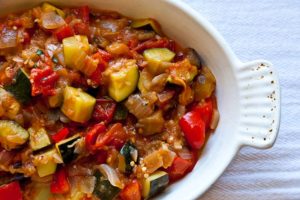 Low Carb Ratatouille. All I can say is leave it to the French-even their "peasants" know the fine art of cooking. This is so good, makes a lot, and best of all it is easy to prepare.
For a list of products you may not be familiar with and used on this site, please read Low Carb Pantry Essentials. I am NOT sponsor-compensated for recommending a product that I use*** And here, in one tidy package, are over 550 Keto~Paleo~Low Carb~Diabetic Chef's Recipes
As I am a Type II diabetic, all recipes on this website are low carb and diabetic friendly.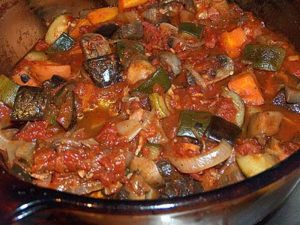 Ratatouille
2014-04-28 11:41:09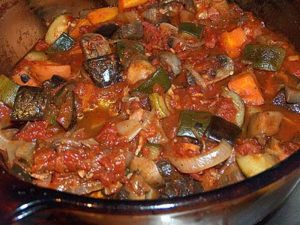 Ingredients
1 Medium Eggplant Peeled & Cubed (4 Cups)
2 Large Zucchini Cubed (4 Cups)
1 C Large Diced Onion
½ C Olive Oil
1 Can Diced Tomatoes
1 C Water
1 T Crushed Garlic
2 t Dried Basil
½ t Dried Oregano
¼ t Dried Thyme
Salt & Pepper To Taste
Parmesan Cheese
Instructions
Peel and cube large eggplant.
Cut Zucchini in half lengthwise and then each half into thirds and make large cubes.
Heat olive oil to very hot and brown eggplant.
Turn heat to low, add rest of ingredients, stir, cover, and cook for 1-1½ hours, stirring occasionally. If additional water is needed-add it. Add salt and pepper to taste.
10-½ C Servings
131 Calories, 1.2g Protein, 6.4g Carbs, 2.2g Fiber 4.2g Net Carbs
8 Servings
165 Calories, 1.5g Protein, 11.2g Fat, 8g Carbs, 2.8g Fiber, 5.2g Net Carbs
Notes
If wanted sprinkle with 1 T Parmesan cheese.
Low Carb Scams https://low-carb-scams.com/