Low Carb Pulled Pork. Shown is the hunk of meat you use to make Pulled Pork. A boneless pork butt roast is really shoulder meat all rolled together and held with stretch netting. Do not remove the netting until finished cooking and whatever you do, DO NOT throw away the liquid. With a little salt it makes the best drinkable broth ever.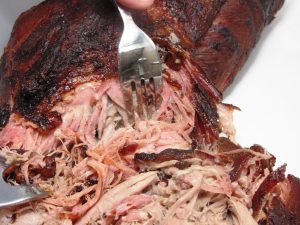 If you have a slow cooker (and I do not) it is the easiest piece of equipment to use, but limited in space for a larger roast. For those of you who do not have a crock pot, below is how to cook it in the oven. Years ago in the restaurant I did six of these at a time. Today I only do one and I freeze the meat into 4 and 6 oz portions for all kinds of uses. Here are several recipes to use the pork with: Cubano Sandwich, & Pulled Pork Gyros. Did you know that pulled pork will thicken a sauce? It does and may be added to the base of Firehouse Fresh Steak Chili, in the sauce for Traditional Spaghetti Squash/Tomato Sauce & this newly added recipe Collard Greens With Smoked Pulled Pork
For a list of products you may not be familiar with and used on this site, please read Low Carb Pantry Essentials. I am NOT sponsor-compensated for recommending a product that I use*** And here, in one tidy package, are over 550 Keto~Paleo~Low Carb~Diabetic Chef's Recipes
As I am a Type II diabetic, all recipes on this website are low carb and diabetic friendly.
Pulled Pork
2015-03-20 08:11:43
Ingredients
3 Lb Pork Roast(s) Or As Many As You Want To Fix
Instructions
Lay out two large pieces of heavy foil, and with the meat at room temperature, place in center and encase it, making sure the foil is closed in all directions. NO salt and pepper at this time as the salt will eat through the foil. Now put your package(s) on one more piece of foil which is to cover your sheet pan or roasting pan. Place in the oven at 275° for 4-5 hours depending on the size of the roast. I try to get them as close to 3 lbs. each as possible. For each additional roast over 1 add 45 minutes additional cooking time. To test if finished, snip the top of the netting, dig into the center and if the meat "pulls" apart easily it is. It's pretty tough to overcook it and if it is not finished close the foil and cook another hour or so. You really do want it to fall apart easily.
Place the roast in a large bowl and remove the netting. With a couple of forks pull apart in several places and let it cool about ½ hour. That fat you see in the net?-use it. Now you are ready to pull the meat and I do this with my hands. There may or may not be some yucky sinuous cartilage & fat and this is to be discarded. If this isn't your cup of tea then take your forks and pull it into shreds. If you want to leave in the oven all day while at work then turn oven to 225° and go earn some money.
If you family is large and since these take a long time to cook I would suggest making at least 2 and maybe 3 at a time. It freezes perfectly for later use.
Every 3 Lb of roast will yield about 24-30 oz. of meat or about 6-7 oz portioned servings, 2-3 oz of fat, and a good size bowl of broth heaven. (Mine was about 2 C broth with 1½ C left after I added ½ C to pork. Once it is pulled it with soak it up broth like a sponge.
6 Servings
367 Calories, 20.2g Protein, 31.8g Fat, 0.0g Carbs, 0.0g Fiber, 0.0g Net Carbs
Low Carb Scams https://low-carb-scams.com/