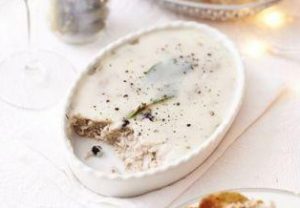 Low Carb Pulled Pork Butter Rillettes. Ca you believe this started as potted meat and as lowly French peasant food? All I gotta say is the French know how to eat and I don't care how it started. The biggest difference between a pâté and a rillettes is texture plus it needs to be served at room temperature to really savor the fat completely. Once you make this I think you will make it again & again. Many people sort of cringe when they think about eating lard but here is a question; you eat bacon don't you? Bacon is lard laced with a little meat and in my world lard is not only good, it is good for you. My problem with this dish is what to eat it with/on. Traditionally rillettes is smeared on toast points and more likely on rustic French bread. I don't have a good suggestion here except to eat it with a fork and yep, that's what I do. Every once is awhile I splurge and eat it on my Carbalose Bread. Since I make this with Pulled Pork instead of with pork belly I don't often end up with enough lard but since I render my own anyway, I always have it on hand. You can't go with less in this recipe so for Pete's sake buy some (real) Lard or render your own as it so easy and actually much less expensive. I do get the broth from my own pulled pork so if you don't do your own, you can use a little chicken broth. This has got to be the ultimate LCHF recipe on this site. If, by chance you prefer duck, here is the recipe for Duck Rillettes.
For a list of products you may not be familiar with and used on this site, please read Low Carb Pantry Essentials. I am NOT sponsor-compensated for recommending a product that I use*** And here, in one tidy package, are over 550 Keto~Paleo~Low Carb~Diabetic Chef's Recipes
As I am a Type II diabetic, all recipes on this website are low carb and diabetic friendly.
Pulled Pork Butter Rillettes
2015-11-12 07:46:18
Ingredients
1 Lb Pulled Pork
1½ C Rendered & Melted Pork Fat (Divided)
½ C Pork Broth (Chicken Broth Will Work As Well)
4 Crushed To Powder Juniper Berries (I Use My Mortar & Pestle)
2 Bay Leaves
2 T Grated Shallot (Or Onion)
1 T Brandy
¾ t Salt (More To Taste)
¾ t Crushed Thyme (More To Taste)
½ t Crushed Garlic
¼ t Pepper
¼ t Crushed Red Pepper
⅛ t Allspice
⅛ t Coriander
Instructions
Chop or put pork in processor, pulse several times & put into mixing bowl. You don't want mush but you do want to shorten the longer strands. Chopping is easiest and you won't need to clean your processor...one more time after cooking...and this is a good thing but...it will be a bit chunkier.
On low heat put 1 C pork fat & then rest of ingredients into small skillet and cook until the onions are pasty and it will not take long.
Remove Bay Leaves.
Add to pork and mix well.
Divide and put into 4 ramekins leaving enough room to cover each with additional fat.
Seal each ramekin with 2 T melted fat.
Serve at room temperature.
8 Servings
619 Calories, 55.2g Fat, 14.1g Protein, .5g Carbs, 0g Fiber, .5g Net Carbs
Notes
After sealing with fat it should easily last a week or two in the refrigerator…but I doubt you would leave it alone that long.
Don't think you can make a meal of this as the satiety level is very high due to the great amount of fat...and there will be those of you who try because it is that good.
Wrapped and frozen works quite well but remember to bring to room temperature before serving.
If you opt to use chicken broth use ½ C water and 1-2 t chicken base.
Low Carb Scams https://low-carb-scams.com/