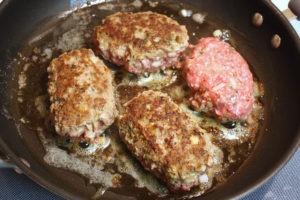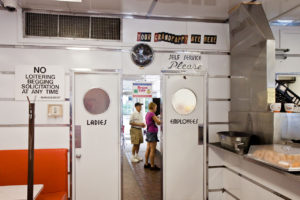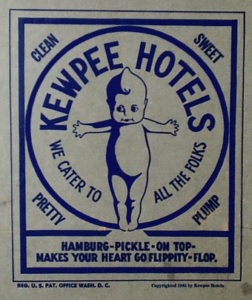 Low Carb Poor Man Steaks. I grew up in the 50's & 60's in Lima, Ohio which certainly would have been considered the heart of the Midwest. Now Lima is famous for a couple of things, and people like Phyllis Diller, Hugh Downs, and Al Jardine one of the founders of The Beach Boys. I didn't know about any of these people until later but one of my earliest memories was/is the Kewpee and Kewpee hamburgers. Now remember, in the early 50's there were not many restaurants anywhere except mostly in famous hotels and to a kid going to the Kewpee was a treat beyond the pale. As I remember it, all they had were hamburgers and "frostys" and it is well documented that Dave Thomas of Wendy's fame modeled his square burger patties and malts after the Kewpee's. Back then a burger was .15 and a frosty (served in a large frosted soda glass, hence the name) was probably about the same price. When the price of the burger went to .25 I well remember my youngest brother saying he was never going to the Kewpee again. Well, it took about a week for that to pass. And Christmas? The best presents?…were tiny little coupons for 4-5 free Kewpees from the owner Stub Wilson and I mean like WOW. The picture above is exactly as I remember it with the sign "Your Grandpappy Ate Here". This is their menu now. The space was so confined, with so little parking and with a huge building in the back that the only way out was to drive onto a turntable, turn 180° and go out the same way you came in. To a little kid is was pretty heady stuff.
OK, anyway, throughout my life I have tried to make a hamburger that tasted like a Kewpee burger and…I have failed miserably. I don't think it can be done but in the meantime I did come up with this and it's only sorta, kinda, close. I did serve these in the restaurant as a "blue plate special" and yes, on a big blue platter. People loved them so…here is my (pathetic) rendition of a Kewpee and you know what? Low carb poor man steaks are really good and Primal Keto Gravy is really good on them.
For a list of products you may not be familiar with and used on this site, please read Low Carb Pantry Essentials. I am NOT sponsor-compensated for recommending a product that I use*** And here, in one tidy package, are all my over 550 Low Carb Keto Paleo Diabetic Chef's Recipes.
As I am a Type II diabetic, all recipes on this website are low carb and diabetic friendly.
Poor Man Steaks
2015-01-01 07:50:58
Ingredients
1½ Lb 20% Hamburger
1 Beaten Egg
½ Small Yellow Onion Slivered
2½ t Yellow Mustard
1¼ t Worcestershire Sauce
½ t Garlic Salt
½ t Lawry's Seasoning Salt
½ t Pepper
Instructions
Mix hamburger & onions.
Beat rest of ingredients with egg & then mix well into hamburger.
Shape into 4 oval patties.
Cook to desired doneness.
4 Servings
488 Calories, 45.7g Protein, 31.5 Fat, 2.1g Carbs, .3g Fiber, 1.9g Net Carbs
Low Carb Scams https://low-carb-scams.com/