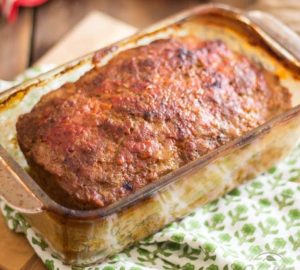 Low Carb Plain Ole Meatloaf. And there is nothing plain about it. The flavors and texture are just terrific. I call it plain ole as opposed to the Meatloaf Extraordinaire which is absolutely a stunning visual by comparison. This was another of my blue plate specials at the restaurant and it always sold out. It was made in a 21×6½x4 inch hotel pan which held 6 quarts and I'm here to tell you that it was a lot of meatloaf. Served with mashed cauliflower and the thin gravy it makes?…Ooh la la.
This recipe (altered to low carb) is the same one I have been making for nearly 50 years. I mean how many newly weds can cook worth a hoot? So this is what I grew up on and it's what I have always loved…there is no ketchup topping and garlic is definitely a standout flavor. If you have a favorite ketchup topping then by all means use it. I don't do this but putting bacon on top would also be good and please see Hot Crossed Bacon Meatloaf. I do use Carbalose Flour Bread crumbs and can be omitted using Ground Pork Rinds. If by chance you have any leftovers it makes a great sandwich on the bread recipe above. I use my small glass loaf pan and it is the same one I use for the bread. If you want to make a bigger meatloaf then adjust the ingredients accordingly and use a larger loaf pan.
For a list of products you may not be familiar with and used on this site, please read Low Carb Pantry Essentials. I am NOT sponsor-compensated for recommending a product that I use*** And here, in one tidy package, are over 550 Keto~Paleo~Low Carb~Diabetic Chef's Recipes
As I am a Type II diabetic, all recipes on this website are low carb and diabetic friendly.
Plain Ole Meatloaf
2015-09-16 14:07:56
Ingredients
1 Lb 20% Hamburger Room Temperature
1 Lb Ground Pork Room Temperature
1 C Carbalose Bread Crumbs (Optional And May Sub Equal Pork Rind Dust***)
1 Egg
½ C Water
⅓ C Heavy Cream
½ Medium Onion Minced
1 T Garlic Salt
1 T Pepper
2 t Salt
Instructions
Preheat oven to 300°.
Put bread crumbs in a large bowl, dump in everything but the meats and mix thoroughly.
Break meats in bowl and again combine thoroughly.
Put in glass baking pan and bake 1 hour.
Increase temperature to 325° and bake an additional 15 minutes.
Let rest 15 minutes.
Cut into 6 slabs and drizzle all juices evenly.
6 Servings
442 Calories, 35.0g Protein, 30.3g Fat, 3.5g Carbs, 1.6g Fiber, 1.9g Net Carbs
Notes
Nutritionals include bread crumbs.
You will know when it's finished as it will have pulled away from all sides of the pan and will be swimming in fabulous fats & juices.
Low Carb Scams https://low-carb-scams.com/