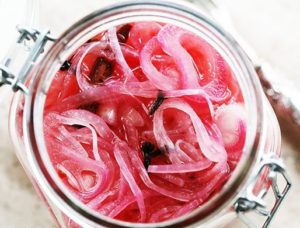 Low Carb Pickled Red Onions are so easy to make and once you have them you will find lots of uses. They can be sprinkled on just about any salad and I love them with capers on Chicken Liver Pate & Hazelnut Crackers
For a list of products you may not be familiar with and used on this site, please read Low Carb Pantry Essentials. I am NOT sponsor-compensated for recommending a product that I use*** And here, in one tidy package, are over 550 Keto~Paleo~Low Carb~Diabetic Chef's Recipes
As I am a Type II diabetic, all recipes on this website are low carb and diabetic friendly.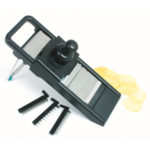 Pickled Red Onions
2013-08-30 12:30:34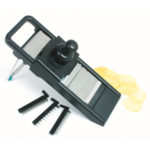 Ingredients
1 Large or 2 Smaller Red Onions
1 C Apple Cider Vinegar (Braggs)
1 C Water
3 Drops Liquid Sucralose (EZ-Sweetz)
10 Peppercorns
8 Cloves
1 t Salt
Instructions
Slice onion thinly 1/16th" (I use a mandoline which I feel is an absolutely must have tool) and then cut pieces into about 1 ½" long.
Bring rest of ingredients to a boil, reduce heat to medium, and simmer onions for about 2-3 minutes.
Put into quart jar and refrigerate.
No nutritional panel since you will only be using 4-6 threads of this at a time. It's a free food.
Notes
The picture of the mandoline above is a Norpro. This company makes good quallity products that don't cost an arm and a leg.
Low Carb Scams https://low-carb-scams.com/