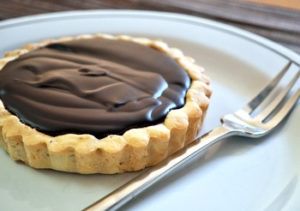 Low Carb Peanut Butter Cream Cheese Ganache Tart. This started out as an experiment so I only made one which I ate all…by…my lonesome. I don't often eat much dessert and now I am a self-confessed pig. It was so good I am posting a recipe that will serve 16. They are deceptively simple and if you aren't serving 16 people they freeze well for a future treat. I just happen to have 8-3⅞" tart tins which is why I made them this way and you can certainly use a larger tart tin. Just be sure you use removable bottomed tins.
You will need 1 smaller crust recipe from Pie Crusts For Most Any Pie/Two Sizes. If you do have mini tart tins they also make a terrific shell for individual Lemon Curd tarts or any other small dessert you may wish to fill a tart shell with.
For a list of products you may not be familiar with and used on this site, please read Low Carb Pantry Essentials. I am NOT sponsor-compensated for recommending a product that I use*** And here, in one tidy package, are over 550 Keto~Paleo~Low Carb~Diabetic Chef's Recipes
As I am a Type II diabetic, all recipes on this website are low carb and diabetic friendly.
Peanut Butter & Cream Cheese Ganache Tart
2014-12-30 09:19:18
Ingredients
1 Recipe Small Size Pie Crust
Filling
¾ C Peanut Butter
6 Oz Cream Cheese
⅓ C Heavy Cream
1½ t Vanilla Extract
18 Drops Liquid Sucralose
Ganache
⅓ C Heavy Cream
⅓ C Sugar Free Chocolate Chips
Crusts
Follow recipe for 1 smaller crust, divide into 8 dough balls. Each ball should weigh about 1¾ oz.
Put ball into center of tart tins and using your fingers push into and up the sides evenly.
Bake in 350 oven for about 10 minutes and remove. At this point they will be puffy. Knock them down with a spoon and pop back into the oven and bake until just golden.
Remove from oven and knock them down again.
Let cool. Do not remove from tins.
Filling
Beat all ingredients until smooth.
Divide and fill each tart shell.
Let them sit for 10-15 minutes and then using your index finger, push and smooth the tops. At this point they will not be sticky.
Ganache
Watching closely, boil cream.
Add chocolate chips, immediately remove from heat and using a whip beat until smooth.
Let cool a bit and drizzle all over tart.
Refrigerate.
Remove from tins, quarter, and serve two wedges each person.
16 Servings 8 Tarts
289 Calories, 9.0 Protein, 24.5g Fat, 8.1g Carbs, 2.9g Fiber, 5.2 Net Carbs
Notes
Now you may have some piggy little children and especially teenagers who can eat a whole one of these puppies like I did, but seriously after a good meal trust me, ½ is plenty, plenty.
Nutritionals include tart shells.
Low Carb Scams https://low-carb-scams.com/