Low Carb Peanut Butter Cheesecake With Chocolate Ganache. I know the name of this is long but the recipe is very easy. I think any cheesecake can be an elegant and easy dessert assuming you plan ahead as cheesecake get better the longer you keep it in the refrigerator. Trust me they don't last long.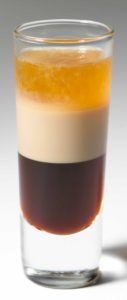 Long ago my husband's favorite drink was a B-52 which is made with Kahlúa, Baileys Irish Cream & Gran Marnier. The drink is made in a pony or shot glass using a cherry or the back of a spoon to "layer" each liqueur, heaviest first etc. When done properly they are a pretty visual. I digress, but one day I decided to make a B-52 cheesecake for him and it turned out looking like a color-muted version of the drink…and good?…Oh yeah. The idea is to show you that you can make just about any flavor cheesecake you can conger up. You will need the larger crust recipe from Pie Crusts For Most Any Pie Two Sizes
For a list of products you may not be familiar with and used on this site, please read Low Carb Pantry Essentials. I am NOT sponsor-compensated for recommending a product that I use*** And here, in one tidy package, are over 550 Keto~Paleo~Low Carb~Diabetic Chef's Recipes
As I am a Type II diabetic, all recipes on this website are low carb and diabetic friendly.
Peanut Butter Cheesecake/Chocolate Ganache
2015-02-25 15:28:20
Larger Crust 9"
2¼ C Almond Flour
¾ C Ground Pecans
½ C Just Like Sugar Brown*** (Paleo) Or 12 Drops Liquid Sucralose
¾ C Melted Butter
Filling
16 Oz Cream Cheese
¾ C Peanut Butter
¾ C Just Like Sugar Brown*** (Paleo) or 18 Drops EZ-Sweetz Liquid Sucralose
¼ C Heavy Cream
3 Eggs
1 T Vanilla
Ganache
½ C Heavy Cream
½ C Sugar Free Chocolate Chips
Crust
Preheat oven to 350°.
Put almond flour into a medium bowl.
In a small processor add pecans and Just Like Sugar Brown and process until pecans are ground.
Add pecan mixture to almond flour and mix in melted butter.
Spread crust around bottom and up sides of 9" spring-form pan.
Blind bake crust 12-15 minutes at 350 degrees and then "tamp down" as it will puff up. Return to oven for about 5-10 additional minutes or until it starts to turn slightly brown. Put on counter to cool.
Filling
Beat cream cheese, peanut butter, vanilla, and sweetener until smooth.
Add eggs 1 at time and blend on low only until mixed.
Add heavy cream and just blend.
The idea is to have as few air bubbles as possible.
Fill baked crust.
Bake 10 minutes at 350°, turn down heat to 325° and bake 30-35 minutes longer or until just barely set in center. Place on counter & cool completely.
Ganache
Heat Cream to just under boil, remove from heat, add chocolate chips and stir until chips are completely melted.
Cool just slightly, spread ganache over top of cheesecake, and refrigerate*.
16 Servings
373 Calories, 8.4g Protein, 34.6g Fat, 10.9g Carbs, 3.1g Fiber, 7.8g Net Carbs
12 Servings
498 Calories, 11.3g Protein, 46.1g Fat, 14.6g Carbs, 4.1g Fiber, 10.3g Net Carbs
Notes
*Refrigerate at least 8 hours and preferable overnight.
Nutritionals include crust.
Most any really good tasty dessert has lots of calories but in case you can't tell from my recipes I do not count calories and...I do not eat dessert every day...I can't. With all the other fat in my diet I am most often too full.
If you get to the point you are sick of this stuff (you won't) it freezes well.
Low Carb Scams https://low-carb-scams.com/