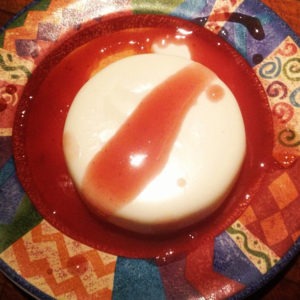 Low Carb Panna Cotta. What to say about this Panna Cotta? It is delicious, low carb-zero carb and extremely high fat. At least my version is. I have a few relatively complicated recipes on the site and I do think this is by far the easiest one to make. This recipe for low carb panna cotta may easily be cut in half to 4 servings. If you prefer a bit fancier low carb panna cotta you may like the Melba Panna Cotta which makes a beautiful dessert for dinner guests. For a list of products you may not be familiar with and used on this site, please read Low Carb Pantry Essentials. I am NOT sponsor-compensated for recommending a product that I use*** And here, in one tidy package, are over 550 Keto~Paleo~Low Carb~Diabetic Chef's Recipes
As I am a Type II diabetic, all recipes on this website are low carb and diabetic friendly.
Panna Cotta
2014-07-21 09:30:54
Ingredients
3 C Heavy Cream
1 C Water
2 Packages Knox Gelatin
¼ C Just Like Sugar
6 Drops Liquid Splenda
2 t Vanilla
Instructions
Sprinkle gelatin over water in a wide mouth ceramic bowl and let sit 5 minutes. (This is called blooming the gelatin).
Begin heating heavy cream & sweeteners.
Pulse water-gelatin mix in microwave at 5 second intervals 3-4 times until just clear, (do not over heat) add to heated cream, add vanilla, and thoroughly mix.
Pour into ½ C ramekins, cover and refrigerate 4-6 hours.
To unmold, put ramekin in hot water almost to rim for about 5 seconds. If it does not release carefully run a small knife around edges. Place plate or bowl on top and invert.
8 Servings
364 Calories, 36.0g Fat .5g Protein, 0.1g Carbs, 0.0g Fiber, 0.1g Net Carbs
Notes
It is my opinion that panna cotta begs to be sauced and here are a couple of suggestions.
1.) Reduce vanilla to 1 t and replace with 1 t almond extract. Make a slurry of raspberries & water, add another ¼ t almond extract, sweeten to taste, and spoon over panna cotta.
2.) Make a slurry of strawberries & water, add 1 T orange extract, sweeten to taste, and spoon over panna cotta.
Low Carb Scams https://low-carb-scams.com/