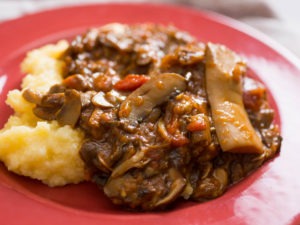 Low Carb Mushroom Ragout Over Mashed Cauliflower. When I was a little girl growing up in Ohio, and maybe 7 or 8 years old, I was out playing in the yard and literally, over night, there were about 8 or 9 puffballs all within close proximity of each other. I ran in the house and got my mom to show them to her. Well, she picked one with a diameter of about 6 inches, took it into the kitchen, sliced it in ½" pieces and fried it in butter. OMG it was delicious. Well, I had two younger brothers and when they found the puffballs they kicked them to smithereens like all goofy little boys would do. My mom was angry and really what could she do? It was the first and only time they ever came up and I feel lucky that at least once, I got to eat a puffball.
Besides their general appearance, they are called puffballs because of the clouds of spores that "puff" out when they burst open or when ready, are hit with the impact of falling rain.
Alas, there are no puffballs in this recipe; I just thought you might be interested. However, if you are ever lucky enough to find one as Andrew Zimmern would say…eat it.
For a list of products you may not be familiar with and used on this site, please read Low Carb Pantry Essentials. I am NOT sponsor-compensated for recommending a product that I use*** And here, in one tidy package, are over 550 Keto~Paleo~Low Carb~Diabetic Chef's Recipes
As I am a Type II diabetic, all recipes on this website are low carb and diabetic friendly.
Mushroom Ragout Over Mashed Cauliflower
2014-11-06 07:02:01
Ingredients
3 T Olive Oil
3 T Butter
2 Lb Sliced Mixed Mushrooms (Portobello, Cremini, Shiitake, Button)
¾ C Small Dice Onions
1 T Butter
1 T Crushed Garlic
1 t Dried Thyme
1 t Dried Oregano
1 Can Petite Diced Tomatoes (Otherwise Regular Diced Tomatoes)
1 T Tomato Paste
2 C Chicken Stock (Make Your Own & Skip The Salt)
1½ t Porcini Dust
1½ t Salt
½ t Pepper
4 C Mashed Cauliflower
½ C Parmesan Cheese
6 T Thinly Sliced Green Onion Tops (Dried Chives Also Work Well)
Instructions
Place a large skillet over medium heat with 1 T butter and sauté onions until translucent, 3-4 minutes.
Add garlic & cook an additional minute. Set aside.
If using portobellos, scoop out the black gills.
Turn up heat to at least medium high, add ½ the olive oil & butter to pan and when the butter is brown, add ½ the mushrooms & sauté. Set aside and repeat.
Add back the mushrooms, onions, add the thyme, oregano, diced tomatoes, tomato paste, and stock, bring to simmer stirring occasionally, and until the liquid has reduced and thickened just a bit, about 10 minutes.
Add more stock as/if needed/wanted. Correct any seasoning.
Plate cauliflower and top with the ragout. Garnish with the Parmesan and green onions, and…chow down.
Serves 6
155 Calories, 6.2g Protein, 10.0g Fat, 10.1g Carbs, 4.4g Fiber, 5.7g Net Carbs
Notes
I like mine with a bit more liquid/stock because the mashed cauliflower tastes great as it soaks it up.
Serve with a salad & small dessert and BOOM-A fabulous meatless meal.
This dish can easily be converted to serve as an appetizer for 10-12 people.
Low Carb Scams https://low-carb-scams.com/