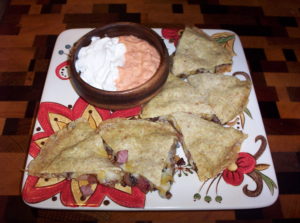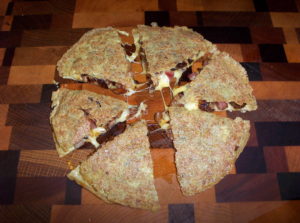 Low Carb Mushroom Ham Cheese Quesadillas. You may think that it might be kinda difficult to make these Mushroom Ham Cheese Quesadillas low carb but you would be wrong. There are lot of recipes on the internet but this may be the lowest carb quesadilla you will find as they are made with my Flaxseed Meal Crêpes which have virtually zero carbs in them.
They are not going to be crispy like a quesadilla made with a flour tortilla but they are crispy, can be picked up like any other quesadilla and taste great never-the-less. In fact they don't even taste like a Mexican dish as they do not have Mexican spices or flavors of any kind so get that out of your mind. The dippings in the bowl were sour cream and a roasted red pepper aïoli made to look like Yin & Yang. Don't know if I nailed the food styling but this recipe is spot on.
For a list of products you may not be familiar with and used on this site, please read Low Carb Pantry Essentials. I am NOT sponsor-compensated for recommending a product that I use*** And here, in one tidy package, are over 550 Keto~Paleo~Low Carb~Diabetic Chef's Recipes
As I am a Type II diabetic, all recipes on this website are low carb and diabetic friendly.
Mushroom Ham Cheese Quesadillas
2016-09-17 08:41:39
Ingredients
1 Recipe Flaxseed Crepes (12)
½ Lb Small Cubed Dry Ham (Or Tasso If You Have It)
¾ Lb Chopped Sautéed Mushrooms
3 T Olive Oil (Divided)
2 T Butter (Divided)
½ C Finely Chopped Sautéed Onions
½ C Orange Or Yellow Pepper
⅓ C Chopped Roasted Red Peppers
½ Lb Cheddar Cheese
½ Lb Gruyere Cheese
½ t Salt
¼ t Pepper
Instructions
Chop and sauté mushrooms in 2 T olive oil. Set aside.
Sauté onions & peppers in remaining olive oil. Add to mushrooms. Add roasted red peppers.
Sauté ham & add to mushroom onion mixture.
Divide mixture into 6 equal portions.
Put 1 t butter in sauté pan on medium heat, add 1 flaxseed crêpe and top with mushroom mixture.
Mix cheeses, top each quesadilla, cover with a second crêpe & cover pan until cheese melts.
Put in warm oven until finished with all quesadillas.
Serve with sour cream.
6 Servings
767 Calories, 45.8g Protein, 62.0g Fat, 8.1g Carbs, 5.0g Fiber, 3.1g Net Carbs
Notes
Nutritionals include flaxseed crêpes.
Though I didn't use them I think small shrimp might also be a great addition.
Low Carb Scams https://low-carb-scams.com/