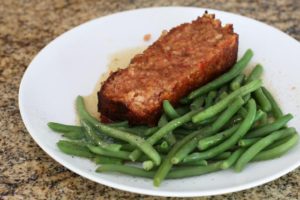 Low Carb Minnesota State Fair Ham Loaf. A little backdrop here. My husband's family all hail from St. Paul, MN. and every year their church makes and sells a ton of this ham loaf at the Minnesota State Fair. I'd hate to show you what they serve on the plate with it, like potatoes, corn, and cornbread and if you are interested here the original recipe with a picture. It is literally a plateful of carbohydrates. Hamline United Methodist Church Ham Loaf Six or seven years ago there was a family reunion somewhere in God's country upper Minnesota and this Minnesota State Fair Ham Loaf was one of the dinners made and at the time I thought is was pretty tasty. I only made it one other time and then kinda forgot about it. Well, I can't have brown sugar anymore but I do use Just Like Sugar Brown and I have adjusted the recipe accordingly. The additions of liquid smoke & bacon is mine because I happen to like them. It is quite easy to make and if you fixed extra sauce I think it might be good drizzled on any number of accompanying vegetables.
For a list of products you may not be familiar with and used on this site, please read Low Carb Pantry Essentials. I am NOT sponsor-compensated for recommending a product that I use*** And here, in one tidy package, are over 550 Keto~Paleo~Low Carb~Diabetic Chef's Recipes
As I am a Type II diabetic, all recipes on this website are low carb and diabetic friendly.
Minnesota State Fair Ham Loaf
2015-11-08 12:39:24
Ingredients
Ingredients
2 lb. Ground Ham (Fat Would Be Nice If You Can Get It)
4 Pieces Ground Bacon (May Be Omitted)
1 Small Minced Onion
⅔ C Carbalose Bread Crumbs (May Be Omitted)
½ C Buttermilk (You May Easily Use Yogurt Or Sour Cream)
6 T Dijon Mustard (Divided)
2 t Ground Sage
2 t Salt
1 t Curry Powder
1 t Allspice
1 t Ginger
1 t Liquid Smoke
1 t Pepper
½ t Ground Cloves
2 Eggs
1 C Just Like Sugar Brown***
½ C Apple Cider Vinegar
Instructions
Heat oven to 325°.
Put ham, bacon, bread crumbs, 2 T mustard, sage, curry, allspice, ginger, cloves, onion, and salt & pepper in a bowl.
Slightly whisk eggs, add buttermilk & liquid smoke, add to ham and mix until well-combined.
Put into loaf pan and smooth top.
Heat remaining mustard, sugar, vinegar, and orange extract in a small saucepan over medium and whisk until sugar dissolves.
Drizzle about one third of the glaze over ham loaf.
Bake until loaf is cooked through-about 50 minutes.
Cool 10 minutes, remove from pan, cut into 8 pieces and plate.
Drizzle with remaining glaze before serving.
8 Servings
285 Calories, 28.2g Protein, 16.3g Fat, 6.3g Carbs, 1.3g Fiber, 5.0 Net Carbs
Notes
Using Yogurt or Sour cream in lieu of buttermilk will decrease the net carbs by about ½ of buttermilk.
Bread crumbs are included in nutritionals and omitting them would reduce the net carb count to nearly nothing and suitable for keto.
Low Carb Scams https://low-carb-scams.com/