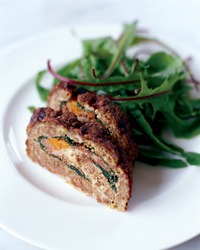 This Low Carb Meatloaf Extraordinaire might be the most beautiful meatloaf you will ever see. As you slice it, it has green (spinach), prosciutto ham (salmon), carrot (orange), and gruyere cheese (white) visible in each piece.
Any leftovers can be thinly sliced and used in a sandwich with either butter or mayo on Carbalose Flour Bread
To read about Carbalose Flour please see the All Things Carbalose informational page.
For a list of products you may not be familiar with and used on this site, please read Low Carb Pantry Essentials. I am NOT sponsor-compensated for recommending a product that I use*** And here, in one tidy package, are over 550 Keto~Paleo~Low Carb~Diabetic Chef's Recipes
As I am a Type II diabetic, all recipes on this website are low carb and diabetic friendly.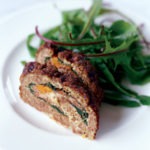 Meatloaf Extraordinaire
2014-03-27 13:33:36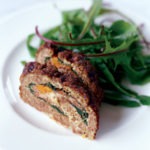 Ingredients
1 Lb 20% Ground Beef
1 Lb Ground Pork
2 Lightly Beaten Eggs
½ C Finely Diced Onions
½ t Ground Rosemary
¾ t Garlic Salt
½ t Salt
½ t Pepper
1 Large Carrot Shaved Lengthwise
2 Cups Wilted Fresh Spinach
6 Very Thinly Sliced Pieces Prosciutto Ham
1½ C Shredded Gruyere Cheese
1½ C Carbalose Bread Crumbs (Optional)
½ Cup Parmesan Cheese
¼ C Olive Oil
Instructions
Preheat oven to 350 degrees.
Cook shaved carrot until soft but not falling apart.
Mix eggs with onions, rosemary, garlic salt & pepper and mix this thoroughly into the ground beef and pork.
Mix bread crumbs with parmesan cheese and spread onto a sheet of parchment paper about 10"x12".
With fingers, press meat mixture over crumbs.
Sprinkle spinach down first then carrots, proscuitto, and top with cheese leaving about ½" at sides.
Lifting parchment paper, roll the meatloaf tightly and press any unused crumbs into sides of meatloaf and scrunch in.
With a brush, dab olive oil over entire crumbed surface.
Transfer to Silpat or foil lined sheet pan and bake about 35-40 minutes. Surprisingly, this does not take long to cook.
Let rest 10 minutes and cut meatloaf log into 8 equal pieces or about 1¼" wide.
You may also drizzle with a thin beef base gravy.
This is one gorgeous meatloaf and certainly elegant enough to serve at a dinner party.
Serves 8
604 Calories, 43.8g Protein, 40.5g Fat, 16.0g Carbs, 8.4g Fiber, 7.6g Net Carbs
Notes
Nutritionals include bread crumbs and if you don't want or have the bread crumbs crushed pork skins are a great substitute.
Any good shaved deli ham will serve in place of the proscuitto and it will of course alter the taste a bit.
Any leftovers can be used for fabulous meatloaf sandwiches or portioned & frozen for further dinners.
You can also opt to wrap the meatloaf in bacon cause bacon never hurts anything.
Low Carb Scams https://low-carb-scams.com/