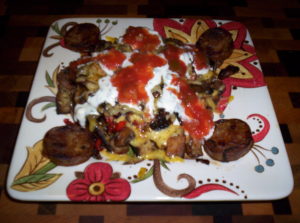 Low Carb Loaded Celery Root Home Fries. Oh baby, oh baby are these Loaded Celery Root Home Fries good. You can certainly play doctor here as you can put your own ingredients in them. This sister's recipe is plain Celery Root Hash Browns. The little circles of meat you see in each corner is fried chorizo and of course you can make this a completely vegetarian meal minus meat and every once in awhile I have this as a complete dinner. If celery root doesn't trip your trigger then daikon radish is a more-than-perfect stand in.
For a list of products you may not be familiar with and used on this site, please read Low Carb Pantry Essentials. I am NOT sponsor-compensated for recommending a product that I use*** And here, in one tidy package, are over 550 Keto~Paleo~Low Carb~Diabetic Chef's Recipes
As I am a Type II diabetic, all recipes on this website are low carb and diabetic friendly.
Celery Root Home Fries
2017-03-01 15:34:07
Ingredients
1 Large Celery Root (About 1-1½ Lbs Cleaned)
6 T Oil + More If Needed For Frying (I Use Lard Or Tallow & Sometimes Both)
½ Medium Onion
1 C Julienned Red Pepper
½ Lb Sauteed Mushrooms
1 C Shredded Cheddar Cheese
¼ C Sliced Green Onion Tops
¼ C Sour Cream
¼ C Salsa
Other Topping Options Might Include: Bacon, Ham, Spinach etc.
Salt & Pepper Fried Celery Root To Taste
Instructions
Peel and cut into ½" x 1½" rectangles.
Put celery root in water to cover and cook until just tender 10-12 minutes. Drain well.
Heat oil and sauté until golden brown.
Remove cooked root, plate, leaving at least several tablespoons of oil in pan.
Add onions & peppers and sauté. Top celery root.
Sauté Mushrooms.
Add onions, peppers and mushrooms to top of celery root.
Top with cheese and microwave until cheese melts.
Mix sour cream & green onions and top cheese.
Drizzle with salsa.
4 Servings
351 Calories, 11.g Protein, 14.9g Fat, 15.7g Carbs, 3.3g Fiber, 12.4g Net Carbs
6 Servings
187 Calories, 7.3g Protein, 9.9g Fat, 10.5g Carbs, 2.2g Fiber, 8.3g Net Carbs
Notes
Nutritionals are for listed ingredients.
Other Topping Options Might Include: Bacon, Ham, Spinach etc.
Low Carb Scams https://low-carb-scams.com/