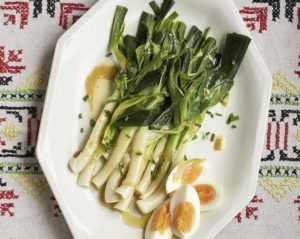 I like totally stole this Low Carb Leek Salad recipe from Andrew Zimmern who got it from French chef Jean-Pierre Moullé who ran the kitchen at Chez Panisse for more than 30 years. I bet this recipe has been around for a while and served to thousands of people. Yep, I stole the picture to the right too. Found the recipe on Twitter and…retweeted it. Yes I did. Made it last night-fabulous. The picture on the left is mine made with one large leek and grated egg.
I did tweak the recipe just a bit because a lot of people may not have fresh chives and even in the picture on the left the egg yolks are not grated. I thought it might be nice to actually grate the whole egg (waste not want not) to use as garnish as it is so much prettier. If you look at the picture the leeks, at least to me, look quite thin and since it is easy to find leeks that may be an inch or more in diameter I think ½ leek is plenty, plenty as a salad. In the second picture I used green onions which are delicious and actually lower in carbs or about 1g carb/serving.
For a list of products you may not be familiar with and used on this site, please read Low Carb Pantry Essentials. I am NOT sponsor-compensated for recommending a product that I use*** And here, in one tidy package, are over 550 Keto~Paleo~Low Carb~Diabetic Chef's Recipes
As I am a Type II diabetic, all recipes on this website are low carb and diabetic friendly.
Leek Salad/Egg/Dijon Mustard Sauce
2014-11-12 07:47:38
Ingredients
2 Large Leeks
1 T Dijon Mustard
1 T White Wine Vinegar
3 T Olive Oil
Salt & Pepper
2 t Dried Chives (Or Fresh If You Have Them)
2 Hard Boiled Eggs
Instructions
To prepare the leeks, trim away the rough bottom on the root end but leave enough so that the leaves don't start to fall off. Cut the tough dark green stalks at the top leaving at least 2 and if possible 3 inches. You will be surprised that as they steam the darker tops will tenderize too.
Starting 1½" from the root end cut the leek in half lengthwise all the way to the green tips.
Make a quarter turn and repeat step one. (The leek will still be intact but the top will be quartered).
Soak the leeks in a bowl of cold water, swishing them around to remove any dirt.
Finish by rinsing the leek under cold running water, taking care to flush away any hidden grit between the layers at the root end. Leeks can most often be very dirty and it is important to clean them thoroughly. My opinion here: They begin to look like an old fashioned whisk broom.
Set up a steamer basket over water in a pot with a tight-fitting lid and set over high heat bringing water to a boil. Turn down heat and steam the leeks for 10-15 minutes, until tender and fully cooked.
Drain & set aside to cool or refrigerate for later use.
Whisk together the mustard, vinegar, olive oil, dried chives, a pinch of salt, and plenty of black pepper in a small mixing bowl. If you are using freshly ground pepper save it until last.
When ready to use the leeks cut each in half lengthwise.
Put on a platter or plate individually, grate ½ egg over each leek, and thoroughly drizzle with the dressing.
Lots of freshly ground pepper.
Garnish with fresh chives if you have them.
4 Servings
103 Calories, 3.7g Protein, 7.8g Fat, 5.0g Carbs, .7g Fiber, 4.3g Net Carbs
Notes
I pretty much did the directions as they had them but what I did was put the leeks in a sauté pan with water, covered & simmered them, turning several times. Just a different way to do the same thing. If you are a restaurant you do lots at a time and for a smaller amount pan steaming works very well.
Green onions are easily just as good as leeks.
Salad may be served warm or cold.
Low Carb Scams https://low-carb-scams.com/