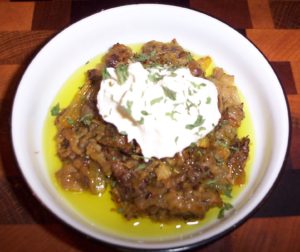 Low Carb Kashke Bademjan. I had been talking to my daughter-in-law, who lives in Dubai, on the last day of the year and of course the talk inevitably gets to food. She asked me if I had ever had Kashk-e-Bademjan which is a Persian (Iranian) eggplant-onion dish and my answer was no. I don't have any idea how countries around the world come up with some of the eggplant dishes they do but I can say this: Some of them are doozies and this is one of them. I must say it is about the ugliest dish imaginable but it also one of the tastiest too. It is all but impossible to tell the onion mixture on top from the mashed eggplant & onion mixture on the bottom and the only redeeming visual is the Yogurt on top. Since it was an experiment and I hadn't made it before, I have changed the recipe to reflect the easy way to make it since it all looks the same color anyway. But…don't let the picture fool you, this stuff is terrific. It would of course normally be scooped with a flatbread or Naan and as an appetizer you can savor each little bite with a fork. Enjoy.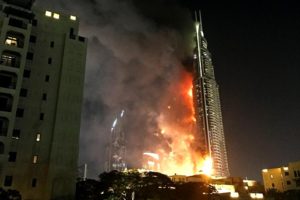 I didn't get to finish my conversation with Tatyana as she started screaming and saying I have to go, I have to go. Well, we all know why now. It had just come on the news that a hotel in Dubai was ablaze. Unbelievably no one was killed but I got just enough information from her to do this recipe.
For a list of products you may not be familiar with and used on this site, please read Low Carb Pantry Essentials. I am NOT sponsor-compensated for recommending a product that I use*** And here, in one tidy package, are over 550 Keto~Paleo~Low Carb~Diabetic Chef's Recipes
As I am a Type II diabetic, all recipes on this website are low carb and diabetic friendly.
Kashk-e-Bademjan
2016-01-08 12:54:21
Ingredients
¼ C Olive Oil
1 Very Large Eggplant
1 Medium Slivered Onion
1 t Turmeric
1 T Crushed Garlic
1 T Dried Mint (Spearmint)
Salt
Pepper
4 T Full Fat Yogurt (Or Lebna)
2 T Parsley
Instructions
Heat oil on medium, peel and cube eggplant, cover & cook until soft, mixing occasionally.
Leaving as much oil as possible, remove the eggplant to a bowl and mash. You don't want it smooth but just chunky and well mashed.
Turn heat to low, add the onions and cook until they just begin to caramelize.
Add the turmeric & mix.
Move the onions to the side, add the garlic, cook a minute or so & incorporate into the onions.
With onion mixture still to the side and the pan off heat, add the mint & stir until soft. Not long maybe a minute.
Add mashed eggplant back to onions and mix thoroughly.
Top with yogurt.
Serve warm.
6 Servings
117 Calories, 1.5g Protein, 9.0g Fat, 7.4g Carbs, 2.4g Fiber, 5.0g Net Carbs
Notes
If you have worked with turmeric you know that if you get it on anything you have a stain for life so be very careful with it.
Low Carb Scams https://low-carb-scams.com/