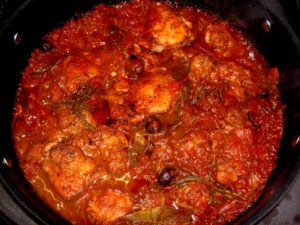 Low Carb Hunter Chicken. One can only imagine the origins of but it is not an American dish. It was a meal made at the end of a day of hunting with likely lots of root vegetables and whatever meat may have been at hand. Squirrel or rabbit anyone? Now we know that the Italians love their wine so what better way to braise meat? White wine can be subbed for the red wine but my preference is red. The original was probably Chianti but um, I don't drink Chianti.
For a list of products you may not be familiar with and used on this site, please read Low Carb Pantry Essentials. I am NOT sponsor-compensated for recommending a product that I use*** And here, in one tidy package, are over 550 Keto~Paleo~Low Carb~Diabetic Chef's Recipes
As I am a Type II diabetic, all recipes on this website are low carb and diabetic friendly.
Hunter Chicken
2016-03-21 09:46:54
Ingredients
8 Chicken Thighs Skin On
½ Lb Mixed Mushrooms
1 Medium Onion Diced Small
1 Smallish Chopped Yellow Pepper
1 Smallish Chopped Red Pepper
2 Small Chopped Carrots
1 T Crushed Garlic
½ Cup Halved Kalamata Olives
1 Cup Water
1 T Chicken Base
1 Cup Red Wine
2 Cans Diced Tomatoes
2 Bay Leaves
1 t Basil
1 t Oregano
1 t Thyme
1 t Rosemary
¼ Cup Olive Oil
2 T Capers
Pepper
Instructions
Heat olive oil and with skin side down sauté until dark golden brown. Turn and brown second side.
Remove chicken and set aside.
Add vegetables and sauté for 5 minutes or so.
Add wine, garlic, chicken base, water, tomatoes, bay leaves & spices and begin reducing.
Put chicken back into the pan and simmer for a 1-1½ hrs. or until chicken falls off the bone.
Add the capers and check for taste.
Remove bay leaves.
Smother each thigh with lots of sauce.
Add pepper.
8 Servings
345 Calories, 11.1g Protein, 27.9g Fat, 12.5g Carbs, 1.4g Fiber 11.1g Net Carbs
Notes
This is fantastic served over spaghetti squash or even cabbage noodles.
If you have it, tear up some fresh basil to top.
Low Carb Scams https://low-carb-scams.com/