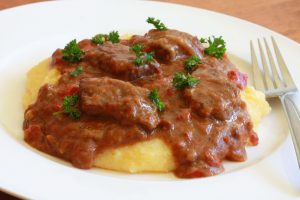 Low Carb Grillades Over Cheesy Cauliflower Grits. One of the things I do is buy whole beef tenderloins and clean & cut them the way I want to. This way if I want a Châteaubriand for company I have it. From the Château out, I cut smaller steaks, and finally from the ends I cut the "tournedoes" which are the smallest filets cut from the tip of the tenderloin and are too small to use as a steak but just because they are small doesn't mean they aren't good. Remember, dynamite comes in small packages. Actually these small pieces can be used, with the addition of other ingredients, to extend a dish to feed more people than a steak can-as in this low carb grillades over cheesy cauliflower grits dish. Other examples might be Beef Stroganoff served over Spaetzle and yet another way is to use the scraps for Steak Tartare or Carpaccio. Now I know not everyone buys a whole beef tenderloin so although filet mignon is the best meat to use, a good quality top sirloin will also fill the bill.
You may have seen this high carby recipe other places using veal (prohibitively expensive) and with varying cuts of less expensive beef but for me, who wants to go to the trouble of fixing a fancy dinner and bite into a tough gristly piece of meat?
And well, we are not really going to use "grits" but we can get close with Cauliflower Grits and here's the deal; you can substitute the skillet fried cauliflower for mashed and if you are like me and have not had real grits for a very long time, you will absolutely not notice much difference.
For a list of products you may not be familiar with and used on this site, please read Low Carb Pantry Essentials. I am NOT sponsor-compensated for recommending a product that I use*** And here, in one tidy package, are over 550 Keto~Paleo~Low Carb~Diabetic Chef's Recipes
As I am a Type II diabetic, all recipes on this website are low carb and diabetic friendly.
Grillades & Cheesy Cauliflower Grits
2014-10-26 09:44:24
Grillades
1 Lb Beef Tenderloin Cut Into ⅓" Slices
Salt & Pepper
2 T Butter
1 C Slivered Onions
2 T Butter
½ C Celery Cut Thinly On The Diagonal
½ C Roasted Red Peppers
1 Can Diced Tomatoes
½ C Water (More As/If Needed)
¼ C Red Wine
2 t Crushed Garlic
2 t Beef Base
½ t Pepper
¼ C Green Onion Tops
Cauliflower Grits
4 C Cauliflower Rice
3 T Butter
½ t Dried Thyme
¼ C Heavy Cream
4 Oz Grated Cheddar Cheese
Instructions
Lightly salt & pepper grillades.
Heat 2 T butter to brown and sear meat quickly on both sides. Set aside.
Turn down heat, add 2 T Butter and begin sautéing onions and celery. When translucent, add red peppers, diced tomatoes, wine, garlic, beef base, pepper, and water.
Turn heat to simmer and reduce until about half the liquid has evaporated.
In another skillet heat 3 T butter, mix in thyme and spread "rice" into it. Cook until tender and slightly browned-turning as necessary.
Add heavy cream to "grits".
Plate grits and top with cheese.
Add green onions and then meat back into vegetables and heat.
Spoon meat & veggies over cheesy grits.
4 Servings
612 Calories, 39.3g Protein, 43.5g Fat, 15.9g Carbs, 4.0g Fiber, 11.9g Net Carbs
Notes
This dish is just as good using mashed cauliflower with lots of added butter, cream and a little thyme.
I always like my meat rare so the directions are for that. If you like you meat well done then leave the grillades in the juices a bit more and it won't take long for them to cook through.
This is another dish that need no additional vegetables. I serve it with a simple salad.
Low Carb Scams https://low-carb-scams.com/