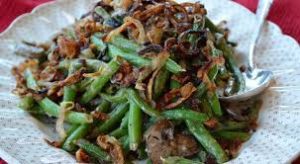 This Low Carb Green Bean Mushroom Bacon Casserole is a recipe I have wanted to post for a long time. Some of you know by now that most of my recipes are not for the faint of heart but this is so very easy. When we think of green bean casserole the natural inclination is to see the Thanksgiving feast in front of us but this is a dish to eat year round. The "mushroom soup" is from scratch and believe me there is a big difference. This is the list of ingredients in Campbell's Cream of Mushroom Soup and, at least to me, it reads like a horror movie: WATER, MUSHROOMS, VEGETABLE OIL (CORN, COTTONSEED, CANOLA, AND/OR SOYBEAN), MODIFIED FOOD STARCH, WHEAT FLOUR, CONTAINS LESS THAN 2% OF: SALT, MONOSODIUM GLUTAMATE, SOY PROTEIN CONCENTRATE, DEHYDRATED CREAM (CREAM [MILK], SOY LECITHIN), YEAST EXTRACT, FLAVORING, DEHYDRATED GARLIC.
So here ya go and this is a dish you can be proud to serve your family.
As I am a Type II diabetic, all recipes on this website are low carb and diabetic friendly.
Green Bean, Mushroom Bacon Casserole
2015-08-10 12:16:25
Ingredients
2 Cans Frenched Green Beans ( 4 Cups Of Fresh Are Even Better)
½ Lb Bacon
3 Thinly Sliced Shallots (About ½ C)
¼ Lb. Sliced Button Mushrooms
¾ C Heavy Cream
1 t Porcini Dust
1½ t Chicken Base
½ t Pepper
Instructions
Drain, drain, drain green beans and put in mixing bowl.
Fry bacon & add to beans. Reserve ¼ C grease.
Sauté mushrooms, chop & add to beans.
Lightly sauté shallots & add to beans.
Put rest of ingredients in pan and reduce on low heat until thick.
Blend cream mixture into beans and put in casserole dish.
Microwave until very warm and serve.
6 Servings
295 Calories, 5.6g Protein, 6.7g Carbs, 1.8g Fiber, 4.9g Net Carbs
Low Carb Scams https://low-carb-scams.com/