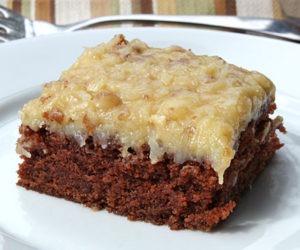 Low Carb German Chocolate Cake. I don't know too many people who might not like a good low carb german chocolate cake and I guess if you don't like coconut then this recipe is not for you. This is not the sweet, sweet stuff from a box and a can but it sure is good and relatively easy to make.
For a list of products you may not be familiar with and used on this site, please read Low Carb Pantry Essentials. I am NOT sponsor-compensated for recommending a product that I use*** And here, in one tidy package, are over 550 Keto~Paleo~Low Carb~Diabetic Chef's Recipes
As I am a Type II diabetic, all recipes on this website are low carb and diabetic friendly.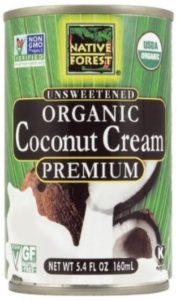 German Chocolate Cake
2015-02-10 13:14:03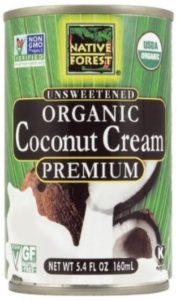 Cake
2 C Finely Shredded Zucchini
½ C Coconut Flour
½ Cup Cocoa Powder
1½ C Just Like Sugar Brown***
¼ C Hot Water
2 t Baking Powder
¼ C Melted Butter
¼ C Melted Coconut Oil
4 Eggs
2 t Vanilla
¼ C Sour Cream
Frosting
1 Small Can Unsweetened Coconut Cream
2 Egg Yolks
4 T Butter
½ C Just Like Sugar Brown***
2 Drops Liquid Sucralose***
1½ t Vanilla
⅔ C Finely Shredded Unsweetened Coconut
¾ C Chopped Pecans
Cake
Preheat oven to 350°.
Mix coconut flour, cocoa, and baking powder.
Beat eggs, sour cream, coconut oil, and butter.
Beat in Just Like Sugar Brown©, vanilla, and water until well blended and mix into dry ingredients.
Stir in zucchini. Pour into a buttered 8"x8" pan and bake for about 30-35 minutes or until toothpick inserted in center comes out clean.
Cool completely.
Frosting
Turn heat to medium low and add coconut cream into small sauce pan.
Add egg yolks and beat.
Add butter, Just Like Sugar Brown©, vanilla and liquid Sucralose.
Increase heat to medium and bring to a low boil for about 3-4 minutes beating constantly.
Remove from heat, cool a bit, and blend in coconut & pecans.
Frost cake while frosting is still a bit warm.
12 Servings
457 Calories, 6.1g Protein, 43.2g Fat, 10.9g Carbs, 5.4g Fiber 5.5g Net Carbs
Notes
The reason I use 2 different sweeteners is to give the finished product a much better depth of flavor.
If you do not have a fine grater for the zucchini you can process it a bit after grating.
Low Carb Scams https://low-carb-scams.com/