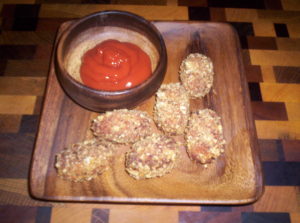 Low Carb Fried Cauliflower Tater Tots. Since I made that fatal mistake ending up with Cauliflower Grits instead of mashed cauliflower I have gone nuts making new recipes with it and these fried cauliflower tater tots are one of the results. Cauliflower Polenta Cakes is another. Is that ketchup in that bowl you may be asking? Why yes it is. Not regular high carby ketchup but Sugar-Free Ketchup. I can't imagine eating tater tots without at least a little ketchup.
There are recipes everywhere for oven baked/fried tater tots but they are nothing like these fried puppies and when eaten, there is zero cauliflower taste. For all the world you will think you are eating real potato tots. Now we know that potatoes fry really well (the Maillard reaction) and/but so do Pork Rinds and we also know how crunchy pork rinds are and these babies are covered with them. My oil of choice was duck fat because if you have ever had french fries done in duck fat you would know why.
For a list of products you may not be familiar with and used on this site, please read Low Carb Pantry Essentials. I am NOT sponsor-compensated for recommending a product that I use*** And here, in one tidy package, are over 550 Keto~Paleo~Low Carb~Diabetic Chef's Recipes
As I am a Type II diabetic, all recipes on this website are low carb and diabetic friendly.
Fried Cauliflower Tater Tots
2016-11-22 09:09:45
Tots
1½ C Cauliflower Grits
¾ C Parmesan Cheese
¾ t Garlic Salt
¾ t Pepper
⅜ t Onion Powder
3 T Beaten Egg Wash
1½ C Crushed Pork Rinds
Egg Wash
2 Eggs
2 T Sour Cream
Oil For Frying.
Instructions
Mix first 6 tot ingredients thoroughly.
Using 2 shallow bowls and l larger plate, put the remaining egg mixture in one bowl and the pork rinds in the second.
Using a 1 T scoop make 36 balls for tots. Form each into a tiny football. Gently put into egg wash and then into pork rinds.
Heat oil to between medium and medium high, cook 12 tots at a time and repeat.
6 Servings
243 Calories, 16.7 g Protein, 17.5g Fat, 6.4g Carbs, 2.6g Fiber, 3.8g Net Carbs
Notes
You may have left over egg mix and you can save it for another use.
I have included 2 T fat in the nutritionals.
As I said I used duck fat to fry these.
Low Carb Scams https://low-carb-scams.com/