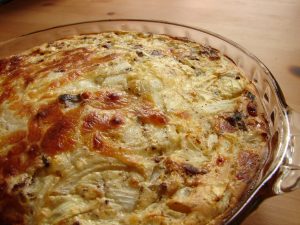 Low Carb Crustless Quiche Lorraine. This is a Crustless Quiche Lorraine made low carb, duh, without the crust. I guarantee you will not even miss it. As you can see I also make this in a smaller size suitable to split with a buddy.
I will never understand why people think it is so important to have a high carby crust with any quiche as it is so unnecessary. If it's made correctly, the flavors with by far out-shine any crust you could possible put in it.
For a list of products you may not be familiar with and used on this site, please read Low Carb Pantry Essentials. I am NOT sponsor-compensated for recommending a product that I use*** And here, in one tidy package, are over 550 Keto~Paleo~Low Carb~Diabetic Chef's Recipes
As I am a Type II diabetic, all recipes on this website are low carb and diabetic friendly.
Crustless Quiche Lorraine
2013-08-31 09:58:34
Ingredients
5 Eggs
2¾ C Heavy Cream
¼ C Butter (Divided)
¾ C Water
2 Leeks
1 Medium Onion
2 C Gruyere Cheese Shredded
1 C Crumbled Cooked Bacon
1 t Salt
½ t Pepper
¼ t Mace or Nutmeg
Directions
Slice leeks and wash thoroughly.
Slice onions.
On medium low heat in large sauté pan combine onions, leeks 3 T. butter & water.
Cook until soft and water has evaporated.
Butter deep glass pie dish with remaining T. butter.
Heat oven to 340 degrees.
Put onion mixture in bottom of pie dish. Top with bacon. Top with cheese.
Beat eggs, mix in heavy cream, mace, salt & pepper, and slowly add egg mixture to pie dish.
Cook at 340 degrees for 20 minutes
Turn heat to 325 degrees and cook additional 40 minutes or until just barely set. Quiche will continue to cook as it sits.
Place on counter and let cool to warm.
Serve warm.
Serves 6
802 Calories, 20.4g Protein, 72.6g Fat, 4.9g Carbs, .7g Fiber, 4.2g Net Carbs
Notes
This is a true keto recipe with 81% fat.
This makes a lovely dinner served with a salad or asparagus & hollandaise.
Low Carb Scams https://low-carb-scams.com/