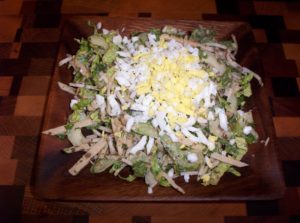 Low Carb Crunchy Peanut Sauced Salad. This is my version of a Crunchy Peanut Sauced Salad that was originally served over rice. I ditched the rice and beets and subbed mung bean sprouts and jicama and I think you will find it quite tasty and with some major crunchy effects. Put that lime in the coconut and enjoy in good health.
For a list of products you may not be familiar with and used on this site, please read Low Carb Pantry Essentials. I am NOT sponsor-compensated for recommending a product that I use*** And here, in one tidy package, are over 550 Keto~Paleo~Low Carb~Diabetic Chef's Recipes
As I am a Type II diabetic, all recipes on this website are low carb and diabetic friendly.
Crunchy Peanut Sauced Salad
2016-06-15 09:20:59
Sauce
½ C Creamy Peanut Butter
½ C Unsweetened Coconut Milk
2 T Water To Use As Necessary To Thin
1-2 T Just Like Sugar Brown (Taste It Before Adding Second T)
1 T Lime Juice Or About ½ Lime
1 T Tamari Sauce
¼ t Red Pepper Flakes
1 t Oyster Or Fish Sauce
½ t Crushed Garlic
Kosher Salt Only If Needed
Salad
3 Hard Boiled Eggs (Grated)
4 C Thinly Sliced Napa Cabbage
½ C Green Onions Cut ½" On Diagonal (Tops Only)
1 C Jicama Julienned To Matchsticks
1 Celery Stalk Cut Thinly On Diagonal
1 Cucumber Peeled, Halved, Seeds Removed, And Sliced Thinly
4 Cups Rough Chopped Mung Bean Sprouts
1 C Chopped Cilantro
1 T Dried Spearmint Leaves
Kosher Salt To Taste
¼ C Chopped Or Crushed Peanuts (Optional)
Sauce
In small pan whisk pepper flakes, garlic, peanut butter, coconut milk, Just Like Sugar, lime juice, tamari, fish/oyster sauce and water until smooth. Heat over low, whisking often, until smooth and warm, about 5 minutes, taste and season with salt if necessary. Keep warm over low heat, whisking occasionally.
Salad
Toss cabbage, scallions, jicama, celery, cucumber, sprouts, cilantro, and mint in a large bowl to combine.
Add dressing, tossing to coat.
Plate salad, grate each with ½ egg and sprinkle, if using, with peanuts.
6 Servings
224 Calories, 12.7g Protein, 13.8g Fat, 12.2 g Carbs, 4.1g Fiber, 8.1g Net Carbs
Notes
Sauce should be slightly warm and salad served immediately.
Don't add any salt until you taste everything as the tamari and fish sauce are pretty salty on their own.
Low Carb Scams https://low-carb-scams.com/