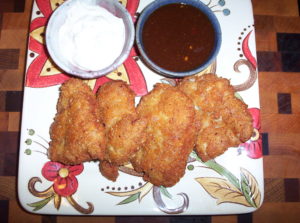 Low Carb Crunchy Deep Fried Chicken Chips are an easy fix and yes, even your pickiest little eaters will love them. I happen to think they are wonderful with Smoky Sweet & Sour Dipping Sauce, Huli BBQ Sauce or Rosemary Aioli but whatever your favorite sauce, please use it. I also like dipping these in a sour cream ranch dressing which I know is disgusting but it works for me. I haven't tried this but you could mix a little Dijon mustard with crushed garlic and a tad of sweetener and honestly it is kind of fun to have 2-3 sauces to try. And yea, if you have kids they may want ketchup. If you think McDonalds has anything on these puppies you had better think again. As you look at the nutritionals these have virtually zero carbs but they do have some serious protein.
As I am a Type II diabetic, all recipes on this website are low carb and diabetic friendly.
Crunchy Deep Fried Chicken Strips
2016-04-11 12:38:47
Ingredients
6 Boneless Chicken Thighs
2 Eggs
¼ C Sour Cream (Or Yogurt)
1 C Parmesan Cheese
1 C Ground Pork Skins
1 T Garlic Powder
¾ t Pepper
Oil For Frying (I Use Duck Fat Or Tallow)
Instructions
Pound chicken thighs and cut in half.
Mix cheese, pork skins, garlic & pepper and put on a large plate.
Beat eggs & sour cream and put on another plate.
Roll chicken in egg mixture then dredge in cheese mixture until well coated.
Fry in ½" hot oil until golden brown-about 4-5 minutes, turn and fry another 3-4 minutes.
6 Servings
463 Calories, 38.0g Protein, 1.1g Carbs 0g Fiber 1.1g Net Carbs
Notes
As I said I use tallow (or whatever else is in my larder) to fry my chips and if they are fried properly they will not absorb much fat at all and with that said, FYI, I have added 1 T of fat into the calorie count but I seriously doubt it has even 1 T in an order.
Yes, you can use breast meat as well.
I actually use my own homemade yogurt mixed in with the egg but it is totally interchangeable with sour cream.
Low Carb Scams https://low-carb-scams.com/