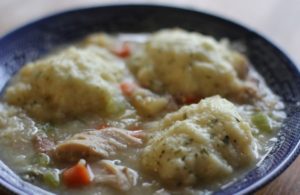 Low Carb Creamy Chicken & Dumplings could be called the #1 comfort food in this country (or not depending on which part of the country you are from) . I grew up in Northwest Ohio and remember my mom fixing this for us and we loved, loved, loved it. We are going to take the basic Spaetzle noodles recipe, doctor it up a bit & continue from there. I think you will agree that this is one good, satisfying, and filling meal. If you poach your own chicken you will have it to make your dumplings. They swell with the cooking and are much tastier done in chicken stock (and the fat) than plain ole water.
As I am a Type II diabetic, all recipes on this website are low carb and diabetic friendly.
Creamy Chicken & Dumplings
2014-12-16 11:23:51
Doctored Spaetzle Recipe
1 C Carbalose Flour
½ t Baking Powder
¼ t Poultry Seasoning
¼ t Pepper
⅛ t Guar Gum
⅛ t Grated Nutmeg
2 Eggs
⅓ C Heavy Cream
⅓ C Hot Water
1 t Chicken Base
2 Drops Liquid Sucralose
Chicken & Fillings
1 Whole Poached & Pulled Chicken (Or Pulled Cooked Rotisserie Chicken)
3 T Butter
1 Cup Sliced Mushrooms
⅓ C Water (Or Poaching Liquid)
1 C Diagonally Thinly Cut Celery
½ C Finely Chopped Carrot (Mostly For Color)
½ C Finely Chopped Onion
⅓ C Chopped Roast Red Pepper
2 T Green Onion Tops
1 T White Wine
1 t Poultry Seasoning
2 t Chicken Base
2 C Heavy Cream
½ C Water (Or Poaching Liquid)
Dumplings
Boil a pot of water (stock) and turn to a medium simmer.
Blend first 6 ingredients.
Beat eggs.
Mix hot water & Sucralose and add chicken base until dissolved, add to eggs and beat.
Add heavy cream and mix.
Add to dry ingredients and beat until smooth.
Using a two teaspoon scoop (about the size of a small melon baller #100 size scoop) drop dough into water (don't crowd) and cook for about 3-4 minutes or until they are no longer doughy.
Drain and repeat until all dough is used.
You should get about 38-40 good size dumplings. (About 1-1½" in diameter)
Chicken & Filling
In large sauté pan, sauté mushrooms in 2 T butter. Set Aside
Melt last 1 T butter, add liquid, wine, carrot, onion, celery, chicken base, & poultry seasoning and cook until tender 5-7 minutes. Add more liquid as necessary.
Add roasted red pepper, green onion tops, mushrooms & heavy cream and bring to simmer.
Add chicken & dumplings and simmer until hot.
Thin with liquid as necessary.
Serve in large bowls with lots of fresh cracked pepper.
Nutritionals include dumplings.
6 Servings
631 Calories, 35.6g Protein, 12.5g Carbs, 3.6g Fiber, 8.9g Net Carbs
Notes
Now that you have the basic recipe you can delete and/or insert you own herbs to suit your tastes.
And oh yeah, leftover frozen turkey works just as well for this dish.
If you poach and pull 2-3 chickens at once you will save a lot of time when next you want to make this or any other dish calling for pulled chicken.
OXO makes a 3 scoop set and the smallest is 2 t. It is not the one I have but this set might be worth owning.
Low Carb Scams https://low-carb-scams.com/