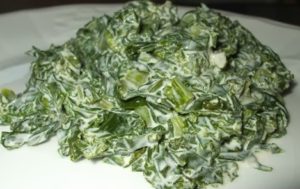 Low Carb Creamed Kale. The darker the leaf the healthier the greens and besides maybe spinach, kale has the darkest leaves and is super good for you. This creamed kale is about as easy & tasty as it gets but you can also add whatever else you want. Additions might be bacon, jowl bacon, onions, shallots, mushrooms, cheese, etc. The recipe is plain and you can do the rest.
For a list of products you may not be familiar with and used on this site, please read Low Carb Pantry Essentials. I am NOT sponsor-compensated for recommending a product that I use*** And here, in one tidy package, are over 550 Keto~Paleo~Low Carb~Diabetic Chef's Recipes
As I am a Type II diabetic, all recipes on this website are low carb and diabetic friendly.
Creamed Kale
2015-01-30 12:23:34
Ingredients
½-¾ Lbs Kale
1 C Heavy Cream
1 T Butter
½ Small Onion Minced
2 t Chicken Base
⅛ t Nutmeg
Pepper To Taste
Instructions
Bring a large pot of water to boil.
Swish kale in water to remove any dirt.
Fold each leaf and cut off ribs.
Chop kale into about 1-1½ pieces and put into boiling water and cook until tender then drain well.
Sweat onion in butter.
Begin heating cream, chicken base, & nutmeg. Add onions and add kale.
Reduce cream slightly & add pepper.
4 Servings
233 Calories, 3.1g Protein, 21.4g Fat, 7.1g Carbs, 2.0g Fiber, 5.1g Net Carbs
Notes
Now how easy is that?
Low Carb Scams https://low-carb-scams.com/