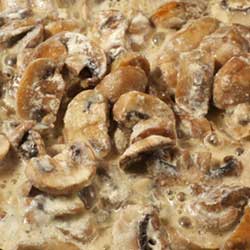 Low Carb Creamed Hungarian Mushrooms. I really don't have much to say about this dish except to let the ingredients speak for themselves. If this isn't a list of goodness, I don't know what is.
For a list of products you may not be familiar with and used on this site, please read Low Carb Pantry Essentials. I am NOT sponsor-compensated for recommending a product that I use*** And here, in one tidy package, are over 550 Keto~Paleo~Low Carb~Diabetic Chef's Recipes
As I am a Type II diabetic, all recipes on this website are low carb and diabetic friendly.
Creamed Hungarian Mushrooms
2014-11-17 16:24:41
Ingredients
1 Medium Onion Slivered
2 T Butter
1 t Crushed Garlic
2 Lb. Assorted Sliced Mushrooms (Any Or All Of These-Porcini, Portobello, Cremini, Shiitake, Button)
6 T Butter
1½ t Porcini Dust
¼ C Cooking Sherry Or Madeira
½ C Heavy Cream
1 C Sour Cream
1 t Paprika
2 T Tamari
2 t Dried Dill
1 t Chicken Base
½ t Pepper
¼ t Nutmeg
2 T Dried Chives
Additional Salt & Pepper To Taste
Instructions
Saute onion in butter, add crushed garlic, & set aside.
Saute Mushrooms in butter, add back onions, add sherry and reduce.
Add heavy cream, porcini dust, spices, coconut aminos, chicken base, and reduce.
Blend in sour cream, plate and garnish with chives.
TaDa…done.
8 Servings As A Side
243 Calories, 3.6g Protein, 23.1g Fat, 5.2g Carbs, 1.1g Fiber, 4.1g Net Carbs
4 Servings As A Meal
483 Calories, 7.2g Protein, 43.2g Fat, 10.4g Carbs, 2.2g Fiber, 8.2g Net Carbs
Notes
Need I say this is good over mashed cauliflower?
If you decide to use dried porcini mushrooms-skip the dust.
This does seriously make a nice dinner as it has so much good fat in it.
Low Carb Scams https://low-carb-scams.com/