Low Carb Cranberry Orange Mousse.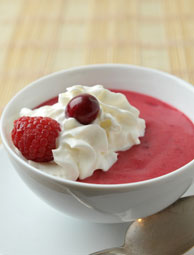 You will need leftover Cranberry Orange Relish to make this recipe. I have given another example of this recipe Almond Butter Mousse and now, using your imagination, I'll bet you can come up with a lot more flavors to "mousse". Strawberry and raspberry come to mind. The ingredients are basic and anything else may easily be substituted.
As I am a Type II diabetic, all recipes on this website are low carb and diabetic friendly.
Cranberry Orange Mousse
2013-09-20 13:16:56
Ingredients
¾ C Heavy Cream
4 Oz Cream Cheese
1 t Gelatin
2 T Cold Water
½ C Orange Cranberry Relish
1 T Orange Extract
12 Dps Liquid Splenda
Directions
Put cold water in tiny microwaveable glass bowl, sprinkle gelatin over water and let it sit about 5 minutes and do not stir. This is called blooming. Put in microwave and give it 5 second bursts until it turns into a liquid.
Beat heavy cream and gelatin to form soft peaks.
Beat room temperature cream cheese, relish, orange extract, and Splenda in another small bowl.
Gently fold in about half of the whipped cream. Fold in the remaining cream making sure it is mixed thoroughly.
Serves 4
350 Calories, 6.3g Protein, 4g Carbs, 1g Fiber, 3g Net Carbs
Low Carb Scams https://low-carb-scams.com/