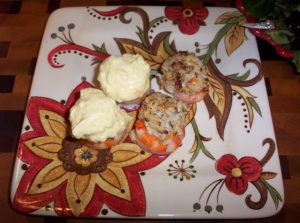 Low Carb Crab Stuffed Shrimp. OK so this just came to me in a flash. I was fixing Stuffed Shrimp which is certainly lowcarb and fabulous when it dawned on me: Why not take the same ingredients in the stuffing, omit the Carbalose Flour Bread crumbs and use crab meat to do this Crab Stuffed Shrimp with Béarnaise Sauce instead. Oh Lordy, I love flashbulb moments and this was one of them.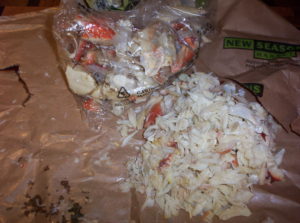 I had just purchased & picked a fresh dungeness crab and had lots left over after making Veal Oscar so…I experimented. I also already had leftover Sauce Béarnaise from the same Oscar so testing this was a piece of cake. I don't know what to say except this is unbelievable. This may be my all time company-for-dinner recipe and the great thing…it is so easy. Expensive? Yes, but so easy and I guarantee you will WOW your friends. I realize crab meat is ridiculously expensive and in this case it might be OK to use imitation crab as it would certainly keep the recipe within reach of the budget.
As I am a Type II diabetic, all recipes on this website are low carb and diabetic friendly.
Crab Stuffed Shrimp/Béarnaise Sauce
2016-01-18 07:46:47
Ingredients
16 Large Shrimp
¾ Lb Crabmeat
¼ C Sour Cream
3 T Melted Butter (Divided)
3 T Grated Onion
½ t Dried Tarragon
¼ t Dried Thyme
¼ t Salt
¼ t Pepper
Instructions
Preheat oven to 350°
Smear 1 T butter on foiled lined sheet pan.
Peel shrimp carefully, trying to keep tail meat intact, make a little circle of each shrimp, and place each on sheet pan.
Gently mix rest of ingredients.
Divide into sixteen portions which should be about 1 T each and top each shrimp.
Bake 10-15 minutes, plate and top each shrimp with béarnaise sauce
4 Servings
326 Calories, 42.6g Protein, 3.3g Carbs, .1g Fiber, 3.2g Net Carbs
Low Carb Scams https://low-carb-scams.com/