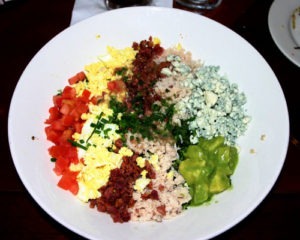 Low Carb Cobb Salad. I found this somewhere on the internet-a way to remember the components of Cobb Salad. Use the mnemonic EAT COBB: Egg, Avocado, Tomato, Chicken, Onion, Bacon, Bleu Cheese.
This is a very simple and elegant salad to serve as a main dinner entrée. I served this in the restaurant to rave reviews.
The description below is how I arranged my ingredients and there are a lot of arrangements so just pick your favorite. The ideal is to have a different flavor or combination of flavors with each bite of salad. I served mine with Caesar Dressing (traditional) and you can serve it with your own favorite. If you are inclined to Caesar then the recipe is here: Caesar Salad Dressing
I have eaten many a low carb cobb salad in my day and I have traveled many times between Portland & Seattle. There is a little joint off the I-5 in the middle of nowhere called Spiffy's that has the best Cobb Salad (besides my own) that I have ever had so…if you are every up this way stop in and try one…with their Caesar dressing- and it is the one I served in my restaurant.
For a list of products you may not be familiar with and used on this site, please read Low Carb Pantry Essentials. I am NOT sponsor-compensated for recommending a product that I use*** And here, in one tidy package, are over 550 Keto~Paleo~Low Carb~Diabetic Chef's Recipes
As I am a Type II diabetic, all recipes on this website are low carb and diabetic friendly.
Cobb Salad
2014-07-15 13:26:58
Ingredients
1 Diced Hard Boiled Egg
½ Chunked Avocado
½ C Hand Pulled Chicken
¼ C Chopped Tomato
¼ C Slivered Purple Onion
¼ C Chopped Cooked Bacon
¼ C Good Quality Crumbled Blue Cheese
4 C Lettuce
Instructions
"IF" you have nice large oval plates this would be the time to use them.
Pile as much lettuce as you can get on the plate-at least 4C.
Arrange your ingredients artfully around the edge of the salad then drizzle dressing all over everything. For company, a nice garnish might be a couple of cheese crisps tucked in at both ends along with a couple wedges of lemon.
1 Serving
572 Calories, 52.1 Protein, 36.1 17.0g Carbs, 9.1g Fiber, 7.9g Net Carbs
Notes
Since I cannot know or account for the salad dressing you will be using the nutritionals are for the ingredients listed.
You may certainly use any lettuce you like but my favorite for this is Spring Mix with a little Romaine mixed in for crunch.
I think there are several other nice additions (but definitely not traditional) to this salad and they coud be ¼ C bay shrimp, ¼ C Black Olives, & a handful of crispy mung bean sprouts.
Low Carb Scams https://low-carb-scams.com/