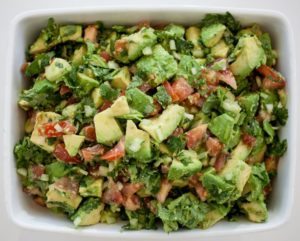 Low Carb Chunky Guacamole Salad is an altered recipe from Jack White's much talked about guacamole salad recipe. I left out the Serrano peppers and added my own taco seasoning and this stuff is addictive. Served with Spicy Taco Hamburger it is a complete meal. Take notice that you can combine a lot of my recipes and still be under 10g carbs & many under 15g carbs. You will need Taco Seasoning of some kind to complete this.
For a list of products you may not be familiar with and used on this site, please read Low Carb Pantry Essentials. I am NOT sponsor-compensated for recommending a product that I use*** And here, in one tidy package, are over 550 Keto~Paleo~Low Carb~Diabetic Chef's Recipes
As I am a Type II diabetic, all recipes on this website are low carb and diabetic friendly.
Chunky Guacamole Salad
2015-03-08 09:54:06
Ingredients
2 Avocados
1 Large Diced Tomato
¼ C Finely Diced Onion
¼ C Finely Chopped Green Onion Tops
¼ C Finely Chopped Cilantro
½ T Taco Seasoning
¼ t Salt
Juice 1 Lime
Instructions
Cut avocados in half and take out the pits.
Cradling each half make 3 cuts down the long side and then 4 cuts the other way and scoop out chunks with a spoon.
Add all the rest of the ingredients and toss lightly
6 Servings
109 Calories, .7g Protein, 4.6g Carbs, 1.0g Fiber, 3.6g Net Carbs
Low Carb Scams https://low-carb-scams.com/