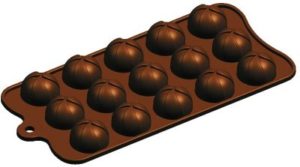 Low Carb Chocolate Candy. WARNING!! Addictive, but then I guess if you need an addiction, chocolate is the best that I know of. You will need a 15 piece silicone chocolate mold for this and Fat Daddio's has a lot of them and may be seen here: http://www.fatdaddios.com/catalog/silicone-4-0-1
For a list of products you may not be familiar with and used on this site, please read Low Carb Pantry Essentials. I am NOT sponsor-compensated for recommending a product that I use*** And here, in one tidy package, are over 550 Keto~Paleo~Low Carb~Diabetic Chef's Recipes
As I am a Type II diabetic, all recipes on this website are low carb and diabetic friendly.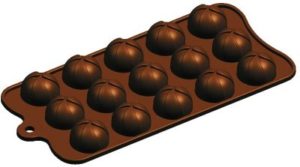 Chocolate Mocha Candy
2013-10-21 13:06:40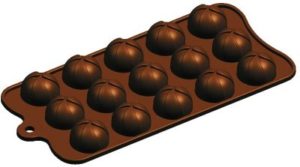 Ingredients
½ C Cocoa Powder
½ C Coconut Oil
10 Drops EZ-Sweetz***
1½ t Vanilla Extract
1 T Instant Espresso
Directions
Heat coconut oil to liquid. Add cocoa powder, vanilla, splenda, and espresso powder (if wanted).
Mix thoroughly to combine.
Taste the mixture and add more Splenda to taste. It should taste like a good dark chocolate.
Fill candy mold being careful not to over fill. I put the candy mold on a sheet pan because it is very flexible and easy to spill so all you have to do is stick them in the freezer for about 30 minutes, pop the chocolates out of the mold and ENJOY!
Keep refrigerated.
About 20 pieces
52 Calories, .4g Protein, 5.9g Fat, 1.2g Carbs, .7g Fiber, .5g Net Carbs
Notes
Best not to eat more than 2 pieces at any given time because the fat content is high and it will make you feel very full.
Low Carb Scams https://low-carb-scams.com/