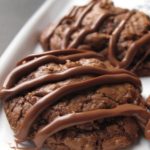 Low Carb Chocolate Brownie Cookies. The recipe for Mocha Zucchini Brownies/Mocha Ganache was just a happy mistake but these chocolate brownie cookies where definitely not. I don't make many cookie recipes but as I was sitting on the couch last night thinking (about food) it came to me if you made a mistake with the brownies could you make a good brownie cookie on purpose? I got to work first thing in the morning and the answer was a resounding yes.
I'm betting if you made these for your kids (and that includes a kid husband) and left them on the counter?…they would disappear as if by magic.
For a list of products you may not be familiar with and used on this site, please read Low Carb Pantry Essentials. I am NOT sponsor-compensated for recommending a product that I use*** And here, in one tidy package, are over 550 Keto~Paleo~Low Carb~Diabetic Chef's Recipes
As I am a Type II diabetic, all recipes on this website are low carb and diabetic friendly.
Chocolate Brownie Cookies
2015-06-12 13:15:52
Cookies
1 C Finely Shredded Zucchini
¼ C Coconut Flour
¼ C Cocoa Powder
¾ C Just Like Sugar Brown©
1 t Baking Powder
2 T Melted Butter
2 T Melted Coconut Oil
2 Eggs
1 t Vanilla
2 T Sour Cream
¾ C Chopped Walnuts
Ganache
¼ C Heavy Cream
¼ C Sugar Free Chocolate Chips
Instructions
Preheat oven to 350°.
Mix coconut flour, cocoa, and baking powder.
Beat eggs, sour cream, coconut oil, and butter.
Beat in Just Like Sugar Brown© & vanilla until well mixed and blend into dry ingredients.
Stir in zucchini & walnuts.
Using a 2 T scoop place 12 dough balls on a Silpat or a parchment lined ½ sheet pan.
Bake 13-14 minutes and immediately remove to wire rack to cool.
Ganache
Heat heavy cream to boil, remove from heat & add chocolate chips. Mix until chocolate is totally incorporated.
(This Would Be The Time To Add Any Additional Flavorings)
Top cooled (frozen*) cookies with ganache.
If by chance you have one of those cheap squeeze bottles (I do) this is the time to use it as the ganache is easily controllable.
12 Servings
125 Calories, 3.4g Protein, 10.7g Fat, 3.9g Carbs, 2.0g Fiber, 1.9g Net Carbs
Notes
Work quickly. Once you have added the zucchini to the dough it can tend to become watery so do not dilly dally around. Stick in the oven immediately.
Suggestion: If you let your zucchini sit out on the counter for 3-4 days they begin to lose some of their moisture and for this particular recipe it's a good thing as that moisture can make the cookies spread more than they otherwise would. But a little spread or not these are fantastic.
Each brownie cookie is a pretty good size at about 3" in diameter.
If you do not have a fine grater for the zucchini you can process or chop it a bit after grating. The idea is to not have long strands of zucchini.
I freeze* my cookies first so that when I drizzle on the ganache it becomes hard quickly.
Low Carb Scams https://low-carb-scams.com/