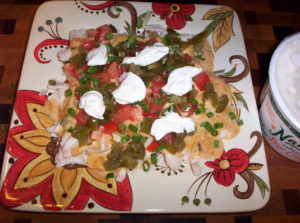 Low Carb Chicken Nachos. OK, the thought of Chicken Nachos just makes my mouth water but since I can't eat regular tortilla chips anymore this is how I do it now. You can either make my Carbalose Flour Tortillas chips or…use everything listed in the recipe below, forget the tortilla chips and cover red, yellow, and orange pepper chips or…you can even forget the pepper chips and eat it with a fork. Chips are only used as a conveyance mechanism anyway and with the invention of the fork you don't need chips. I am using pulled chicken as my base but certainly Pulled Pork would work and so would ground beef. I like pulled meats because they have so much more SURFACE AREA and the cheese sauce can get into more of those nooks & crannies. So have a good time with this and top it as you wish.
For a list of products you may not be familiar with and used on this site, please read Low Carb Pantry Essentials. I am NOT sponsor-compensated for recommending a product that I use*** And here, in one tidy package, are over 550 Keto~Paleo~Low Carb~Diabetic Chef's Recipes
As I am a Type II diabetic, all recipes on this website are low carb and diabetic friendly.
Chicken Nachos
2015-12-30 06:41:31
Ingredients
Queso
1 C Heavy Cream
½ C Salsa (Your Choice-I Use Pace Picante Or Fresh Tomatoes)
¾ t Paprika
¼ t Chipotle Powder
8 Oz Cheddar Cheese Or Cheese Of Choice
Other
Meat From One Pulled Chicken
1 C Diced Tomatoes
½ C Minced Onions
½ C Chopped Pickled Jalapeno Peppers
½ C Sour Cream
¼ C Green Onion Tops
1 C Guacamole
Instructions
Queso
Begin heating cream and reduce slightly.
Add rest of ingredients down to cheese and reduce slightly again.
Remove from heat, add cheese and stir until melted.
Plate
Chicken on plate and drizzled with queso.
Sprinkle with onions, tomatoes and jalapenos.
Top each plate with 2 T. sour cream, ¼ C guacamole and sprinkle with green onions.
4 Servings
728 Calories, 44.6g Protein, 69.9g Fat, 11.2g Carbs 4.2g Fiber 7.0g Net Carbs
6 Servings
485 Calories, 429.8g Protein, 46.6g Fat, 7.4g Carbs 2.8g Fiber 4.6g Net Carbs
Notes
As you can see I didn't have an avocado to make guacamole so I went without. If you don't want to make your own I have seen it ready-made in the grocery store.
Nutritional info includes all ingredients.
Low Carb Scams https://low-carb-scams.com/