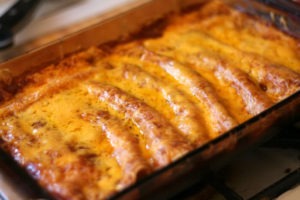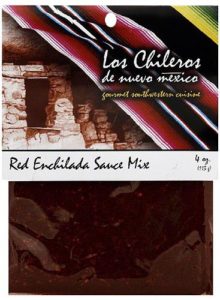 Low Carb Chicken Enchiladas. OK, you will need to either poach or buy a rotisserie chicken from your local grocery and pull the meat off the bones with your fingers. You want "pulled" chicken, not diced. If you poach one then keep 4 cups of stock as you can use it in your enchilada sauce. (Unless you buy that too). I am sorry but I can not abide canned sauce and that is just me. If you like it then by all means, please use it. I do know for you busy moms & cooks sometimes convenience trumps all, but it you want authentic low carb chicken enchiladas this is definitely the way to go.
The reasons I like the Los Chileros Enchilada Powder are 1.) I do not have to use it all at once. 2.) I like to use the stock from the chicken instead of water, but if you opt to use water you can always put chicken base in it, and 3.) It tastes authentic and really good. You will need 1 recipe of Zero Carb Flaxseed Meal Crêpes which serve as the tortillas. Served with Spanish Rice & Pico de Gallo this all makes a complete Mexican dinner. For a little diversity there is absolutely nothing wrong with using Pulled Pork in these either.
For a list of products you may not be familiar with and used on this site, please read Low Carb Pantry Essentials. I am NOT sponsor-compensated for recommending a product that I use*** And here, in one tidy package, are over 550 Keto~Paleo~Low Carb~Diabetic Chef's Recipes
As I am a Type II diabetic, all recipes on this website are low carb and diabetic friendly.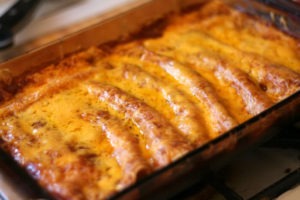 Chicken Enchiladas
2014-11-25 12:21:18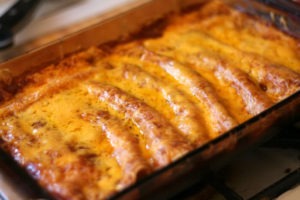 Filling
3-3½ C Pulled Chicken (Or About 1 Lb)
8 Oz Shredded Cheddar (Or Jack) Cheese (Divided)
1 Medium Small Dice Onion
2 T Butter
1½ t Salt
12 T Sour Cream
Cilantro As Garnish (If Wanted)
Enchilada Sauce
5 T Enchilada Powder
3½ C Stock (Or 3½ C Water +2 t Chicken Base)
¼ t Xanthan Gum
Or 3½ C Favorite Canned Sauce
Instructions
Preheat oven to 350 degrees.
Combine stock or water & chicken base with enchilada powder & heat. While whisking briskly, sprinkle in xanthan gum. It will begin to thicken just a bit.
Sauté onions lightly in butter.
Mix chicken, onions and 3 oz of cheese.
Divide chicken mixture into 12 equal portion.
Spread some sauce on a large plate and dredge tortilla "crêpes" on both sides.
Roll chicken into 12 tortilla "crêpes".
Put a little sauce in bottom of an 9"x13" baking dish and line dish with enchiladas seam side down. Spoon remaining sauce on top.
Scatter remaining cheese over all.
Cover and bake until hot-about 20-25 minutes.
Top each enchilada with dollop of sour cream and chopped cilantro.
6 Servings
463 Calories, 35.4 Protein, 33.2g Fat, 5.6g Carbs, 2.3g Fiber, 3.3g Net Carbs
Notes
Get this guys, one 7"-8" flour tortilla has...drum roll please...22.2g net carbs which means over 44g carbs for two which is a serving. You know, that is a whole lot of carb savings.
Nutritionals include crêpes.
Use any leftover chicken for salad or freeze it for the next time you want even quicker enchiladas.
The reason I much prefer the above enchilada mix is that it only has 4 ingredients: Chile, onion, garlic and salt.
Compare that with McCormicks: Corn Flour, Salt, Chili Pepper, Cumin, Onion, Cheddar Cheese (Milk, Cheese Cultures, Salt, Enzymes), Leavening (Sodium Acid Pyrophosphate, Sodium Bicarbonate, Corn Starch, Monocalcium Phosphate), And Garlic.
Me I'll take 4 ingredients I recognize.
Low Carb Scams https://low-carb-scams.com/