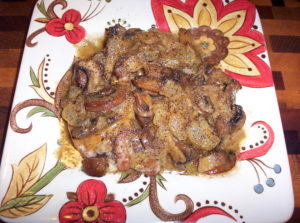 Low Carb Chicken a'la Marsala is another one of those cold winter night comfort foods. It is very easy to make assuming you have DRY Marsala wine on hand and if you don't…you should. Do not use sweet Marsala or you'll be sorry. This is traditionally made with either veal (fantastic) or boneless skinless chicken breasts which of course is great but I actually like to make mine with thigh meat because I think they taste better and are much juicier than a white meat breast. Just my opinion. Normally the chicken breasts are cut in half and then in half again and pounded into medallions so if you are using breasts then do this. If using thighs pound them as flatly as you can and cut each one in half (there is a kind of natural center) to use as your medallions. If using Pancetta or bacon reserve the fat to use for sautéing.
A little truth telling here. I de-boned my own chicken thighs so of course I left the skin on and…I also used duck fat as my fat of choice. I believe duck fat is the more heavenly cousin of chicken fat. Don't know if you can tell from the picture but I used Pancetta because I pretty much have it in the freezer at all times and of course it produces it's own fat too.
For a list of products you may not be familiar with and used on this site, please read Low Carb Pantry Essentials. I am NOT sponsor-compensated for recommending a product that I use*** And here, in one tidy package, are over 550 Keto~Paleo~Low Carb~Diabetic Chef's Recipes
As I am a Type II diabetic, all recipes on this website are low carb and diabetic friendly.
Chicken a'la Marsala
2015-12-18 08:19:57
Ingredients
6 Boneless Skinless Chicken Thighs Or 3 Large Breasts
4 Oz Cooked And Chopped Pancetta, Prosciutto, Or Bacon
1 Lb Sliced Mushrooms
½ Medium Slivered Onion
2 T Olive Oil (Or Reserved Fat From Bacon)
1 t Crushed Garlic (Optional)
1 C Dry Marsala Wine (Dry Not Sweet)
¼ C Heavy Cream (Optional)
½ C Water
2 t Chicken Base
½ t Mustard Powder
1 t Dried Oregano
2 T Butter
¼ C Chopped Parsley (Optional)
Pepper
Instructions
Making sure meat is at room temperature, pound chicken as thinly as you can without tearing it.
Cut each thigh in half or quarter each breast. (12 medallions-3 per serving)
Saute pancetta or bacon.
Add onions to 2 T fat and cook until beginning to caramelize. Set aside.
Saute mushrooms in 2 T olive oil, fat, or some combination of the two. Set aside.
Heat 2 T fat and quickly sauté chicken medallions. Set aside & keep warm.
Add wine to pan and scrape any cruddy buttons from the bottom.
Add garlic, water, chicken base, mustard, oregano, reserved onions & mushrooms and reduce.
If using heavy cream add that too.
If not using cream, swirl in butter 1 T at a time and sauce will thicken.
Top medallions with sauce & grind on pepper.
Garnish with parsley if using.
4 Servings
500 Calories, 32.9g Protein, 37.5g Fat, 7.8g Carbs, 1.0g Fiber, 6.8g Net Carbs
Notes
I have included all fat and heavy cream in the nutritionals. If you only use one or the other the calorie count will be less but seriously, who cares?
Low Carb Scams https://low-carb-scams.com/