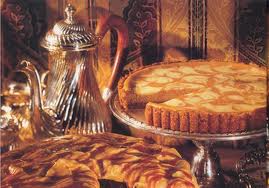 Low Carb Cheesecake Pumpkin Pie. We can all make a low carb cheesecake or pumpkin pie but this is something to behold. There are hundreds of recipes all over the internet and the secret to this pie is the crust and when finished, the stunning visual of the swirled cream cheese. This will easily serve 12 and up to 16. Pumpkin pie shouldn't be just for Thanksgiving anymore.
For a list of products you may not be familiar with and used on this site, please read Low Carb Pantry Essentials. I am NOT sponsor-compensated for recommending a product that I use*** And here, in one tidy package, are over 550 Keto~Paleo~Low Carb~Diabetic Chef's Recipes
As I am a Type II diabetic, all recipes on this website are low carb and diabetic friendly.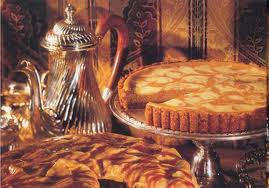 Cheesecake Pumpkin Pie
2013-08-09 12:46:49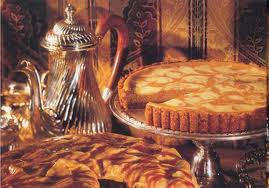 This is originally from Bon Appetite in 1992. I made it for years every Thanksgiving and now make it low-carb. After a big turkey dinner with all the trimmings, it will easily serve 12-16.
Crust
2¼ C Almond Flour
¾ C Ground Pecans
½ C *Just Like Sugar Brown***
¾ C Melted Butter
Filling
8 oz Cream Cheese
6 T Sour Cream
½ C *Just Like Sugar***
2 Eggs
1 C Libby's Pure Pumpkin
¾ t Cinnamon
¼ t Ground Ginger
⅛ t Ground Cloves
Crust
Preheat oven to 350°.
Put almond flour into a medium bowl.
In a small processor add pecans and Just Like Sugar Brown and process until pecans are ground.
Add pecan mixture to almond flour and mix in melted butter.
Press well into and up sides of a 9"x1½ " round removable bottom cake pan. I prefer to use a cake pan unless you have a large deep tart pan.
Blind bake in preheated 350 degree oven 10 minutes.
Remove from oven and "tamp down" bottom and sides. You want the crust to be 'dense'.
Put back in oven until it just begins to brown.
Remove from oven and maintain heat.
Filling
Beat cream cheese, sour cream and sweetener until smooth.
Add eggs 1 at time and blend only until mixed.
Reserve ½ C.
Add pumpkin, cinnamon, ginger, and cloves to remaining cream cheese mixture and blend.
Fill baked crust.
Take reserved cream cheese mix and dot the pie generously 1T. at a time.
Use the tip of a toothpick to 'swirl' the dots.
Bake 30 minutes until just barely set in center.
Remove from oven, cool completely, cover and refrigerate.
Serve with whipped cream.
12 Servings
351 Calories, 8.1g Protein, 35.2g Fat, 7.9g Carbs, 3.8g Fiber, 4.1g Net Carbs
16 Servings
271 Calories, 6.1g Protein, 26.4g Fat, 6.0g Carbs, 2.8g Fiber, 3.2g Net Carbs
Notes
Crust is included in nutritionals.
Just Like Sugar & Just Like Sugar Brown. *Both these products are pure inulin made from chicory root and have 0 calories and zero carbs so, if you want more fiber in your diet these products are wonderful. They are also relatively expensive but now that I have them I use them like crazy.
Adapted from Bon Appetite
Low Carb Scams https://low-carb-scams.com/