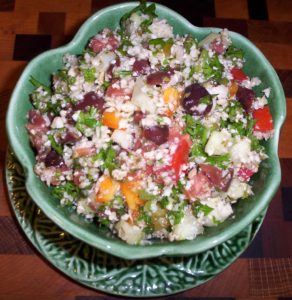 Low Carb Cauliflower Tabbouleh. Traditional tabbouleh is actually kind of an herb salad with not so much bulgur and as we Americans have made it, it now does not really resemble any true Middle Eastern versions. But hey, now here's the deal. I am an American and this is closer to our version than theirs. Anyway, the idea is eat a good tasting clean salad and this is that. Any and all of the ingredients may be changed. By the time you are finished with this dish you may not even recognize it as cauliflower. There are so many other compatible flavors which when blended, make this one tasty side salad and as I know low carb cauliflower tabbouleh, this will be far healthier than the boxed stuff we are all familiar with. As I said, it is not a "wheat salad" and this it is an herb salad with a little "cauliflower bulgur" in it.
If you are so inclined, and for more wonderful tabbouleh recipes that you can healthify with cauliflower for yourself, here is a list of them and in fact my recipe seems closely related to The Greek Island Tabbouleh
For a list of products you may not be familiar with and used on this site, please read Low Carb Pantry Essentials. I am NOT sponsor-compensated for recommending a product that I use*** And here, in one tidy package, are over 550 Keto~Paleo~Low Carb~Diabetic Chef's Recipes
As I am a Type II diabetic, all recipes on this website are low carb and diabetic friendly.
Cauliflower Tabbouleh
2015-07-04 09:35:19
Ingredients
4 C Blanched, Drained, Cooled & Riced Cauliflower (Always Include The Core)
1 C Peeled, De-Seeded And Chopped Cucumber
¾ C Chopped Mint Leaves (Spearmint) (Or 3-4T Dried Mint)
½ C Chopped Curly Leaf Parsley
½ C Pitted And Chopped Kalamata Olives
½ C Finely Chopped Orange Peppers, Yellow Peppers, Or Both
⅓ C Thinly Cut Green Onion Tops
⅓ C Quartered Cherry Tomatoes
⅓ C Finely Chopped Red Onion
¼ C Olive Oil
¼ C Lemon Juice
½ t Crushed Garlic (Optional)
1 t Apple Cider Vinegar (Or Red Wine Vinegar)
¼ t Allspice
½ t Pepper
1 t Salt (For Later)
Instructions
Blend first 9 ingredients in large bowl.
In a smaller bowl mix next 6 ingredients and blend into vegetables.
May be refrigerated* or served immediately.
Just before you are ready to serve your tabbouleh sprinkle and mix in the salt or better yet let people do it themselves. Not all, but most of the veggies will weep anyway and if you salt and then refrigerate you will have even more. Now this is not necessarily bad, it just is. Salt leaches out liquids plain & simple. If you end up with weepy tabbouleh even without salt, just drain it.
10 Servings
126 Calories, 1.1g Protein, 10.2g Fat, 7.4g Carbs, 1.6 g Fiber, 5.8g Net Carbs
12 Servings
105 Calories, .9g Protein, 8.5g Fat, 6.2g Carbs, 1.3g Fiber, 4.9g Net Carbs
Notes
*I personally like to refrigerate mine for at least several hours.
If you have it and wish to add a little crumbled feta cheese then please, be my guest.
Low Carb Scams https://low-carb-scams.com/