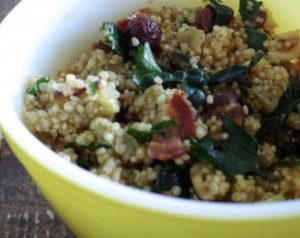 Low Carb Cauliflower Bacon Quinoa Salad. Quinoa is one of 10-12 ancient grains and has become something of a darling in the last 5-7 years and probably because it's gluten free. The problem for low carbers is still its high carb content. This low carb cauliflower bacon quinoa salad is a very quickly made recipe to accompany a last minute meal. If you like this, you will also like my Cauliflower Tabbouleh which is different, a bit more complicated, and uses more ingredients. Will this taste like a classic quinoa? No, but pretty danged close.
For a list of products you may not be familiar with and used on this site, please read Low Carb Pantry Essentials. I am NOT sponsor-compensated for recommending a product that I use*** And here, in one tidy package, are over 550 Keto~Paleo~Low Carb~Diabetic Chef's Recipes
As I am a Type II diabetic, all recipes on this website are low carb and diabetic friendly.
Cauliflower Bacon Quinoa Salad
2015-08-24 09:56:16
Ingredients
3 C Riced Cauliflower
½ Lb Bacon
½ C Chopped Red Onion
¼ C Chopped Parsley
¼ C Olive Oil
2 T Balsamic Vinegar
1 t Liquid Smoke
1 t Spicy Mustard
1 t Just Like Sugar Brown
½ t Chipotle Powder
¼ t Salt
Fresh Cracked Pepper
Instructions
Cook and crumble bacon, retaining 2 T fat.
Put riced cauliflower, red onion, parsley, and bacon in mixing bowl.
In smaller bowl put reserved bacon fat with rest of ingredients and mix well.
Pour over cauliflower and again mix well.
4 Servings
403 Calories, 8.0g Protein, 38.2g Fat, 6.7g Carbs, 2.1g Fiber, 4.6g Net Carbs
Low Carb Scams https://low-carb-scams.com/