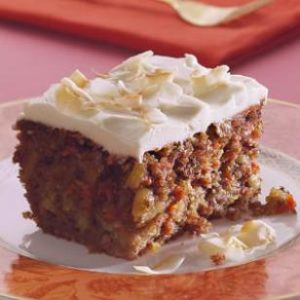 Low Carb Carrot Zucchini Cake Cream Cheese Frosting. Moist sweet carrot cake is certainly something I remember from childhood (as the girl I had to grate the carrots) but uh, I can't eat that stuff anymore and this is my low carb version.
Shredded Smedded. Carrots or zucchini? Why not use both? Well, this does that and yes, as far as I am concerned it would not be carrot cake without cream cheese frosting so I pile it on.
If you prefer pecans then substitute them and what the hell you can also mix them. The debate will rage on no matter which you use. I did not grow up in the South and my preference remains walnuts.
Wanna see something kinda sick? Take a look at this recipe from The Eating Well Diabetes Cookbook (2005) http://www.eatingwell.com/recipes/carrot_cake.html What the hell and OMG. Says 43g carbohydrates or 3 carbohydrate servings-whatever that is. And this is only the dessert? Are you kidding me? With direction like this from the ADA we got a long way to go folks and uh yeah, I stole their picture cause they should be ashamed of themselves.
For a list of products you may not be familiar with and used on this site, please read Low Carb Pantry Essentials. I am NOT sponsor-compensated for recommending a product that I use*** And here, in one tidy package, are over 550 Keto~Paleo~Low Carb~Diabetic Chef's Recipes
As I am a Type II diabetic, all recipes on this website are low carb and diabetic friendly.
Carrot Zucchini Cake/Cream Cheese Frosting
2014-12-07 13:07:57
Cake
1½ C Finely Shredded Zucchini
1½ C Finely Shredded Carrot
½ C Almond Flour
½ C Coconut Flour
½ C Desiccated Coconut
5 Eggs
¾ C Just Like Sugar***
¾ C Just Like Sugar Brown***
⅓ C Melted Butter
⅓ C Melted Coconut Oil
¼ C Water
1 T Baking Powder
2½ t Cinnamon
¼ t Guar Gum
¼ t Xanthan Gum
½ t Nutmeg
¼ t Allspice
2 t Vanilla
¼ C Sour Cream
1½ C Chopped Walnuts
Frosting
8 Oz Cream Cheese Softened
½ C Just Like Sugar Baking*** (Powdered Sugar Version)
5 Drops Liquid Sucralose
2 T Heavy Cream
¼ C Butter Softened
2 t Vanilla
Cake
Preheat oven to 350°
Butter 10"x10" baking pan.
In large bowl blend almond flour, coconut flour, coconut, guar gum, xanthan gum, baking powder, baking soda and all the spices.
In another bowl and in this order; beat eggs, then add and beat in sour cream, butter, coconut oil, vanilla, water and both Just Like Sugars.
Blend wet into dry ingredients, blend in carrots, zucchini, & nuts.
Pour into baking pan and bake 30-35 minutes.
Frosting
Beat cream cheese & butter, add Just Like Sugar Baking, liquid Sucralose, heavy cream & vanilla.
Slather top of cake with small off-set spatula.
Sprinkle walnut crumbs on top of cake.
16 Servings
258 Calories, 5.4g Protein, 24.8g Fat, 4.2g Carbs, 1.4g Fiber, 2.8g Net Carbs
Notes
I think the frosting is plenty sweet enough but my tolerance for sweet stuff has lessened over time so please taste your frosting and if it needs more add another drop of liquid Sucralose.
Low Carb Scams https://low-carb-scams.com/