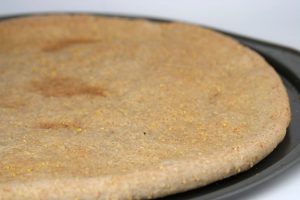 Low Carb Carbalose Flour Pizza Crust. It seems one of the "biggies" diabetics miss most is bread, hence pizza crust, which is by any measure a bread product. I am of the opinion that bread, buns, and pizza crust are really just vehicles to get other foods into our mouths and let's face it, pizza in particular would be a little messy if it were not for a crust. This is the only pizza recipe on the site Chicken & Shrimp Thai Pizza and making pizza can definitely be a fun family affair so this is the basic and very good low carb pizza crust. Have at it with your kids and…go make your own pizza.
This will make a 14″ round low carb carbalose flour pizza crust or if you do not have the correct pan size it may be done in a rectangular ½ sheet pan. The picture inside the recipe is a 16″ pan which is what I use. With a couple alterations this is ½ the basic Carbalose Flour Bread recipe.
All my other Carbalose Recipes are listed at the bottom of the Carbalose Informational Page.
For a list of products you may not be familiar with and used on this site, please read Low Carb Pantry Essentials. I am NOT sponsor-compensated for recommending a product that I use*** And here, in one tidy package, are over 550 Keto~Paleo~Low Carb~Diabetic Chef's Recipes
As I am a Type II diabetic, all recipes on this website are low carb and diabetic friendly.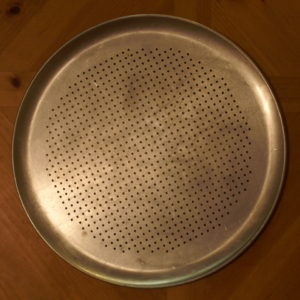 Basic Pizza Crust
2014-07-13 23:09:26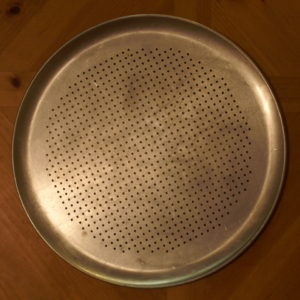 Ingredients
1¼ C Carbalose Flour
½ C +2 T Warm Water
2 T Wheat Gluten
2 T Coconut Flour
2 T Golden Flaxseed Meal
2 T Olive Oil
½ t Salt
⅛ t Guar Gum
⅛ t Xanthan Gum
½ t Ground Rosemary
1 T Yeast
½ t Sugar
4 Drops Liquid Sucralose
Instructions
Preheat oven to 375 degrees.
Bloom yeast with sugar in warm water for 10 minutes.
Put all dry ingredients in processor and turn on just to blend.
Add olive oil.
Add liquid Sucralose to top of bloomed yeast and with machine running add slowly to dry ingredients.
Run processor for at least a minute and probably a little longer adding any additional water if needed. You want to make sure there is enough water. Dough should have a loose consistency and will not be sticky on your hands. At this point the dough should have the same look and feel of regular bread.
If you are using a round pizza pan form into a ball and put in un-greased bowl & cover with film for about 20-25 minutes.
If you are using a rectangular pan put the dough into a small rectangular bread pan & cover with film for about 20-25 minutes.
Forming the dough into a round crust: Do not punch down dough. Take if out of the bowl and if you have one, put it in the center of your Silpat. Starting in the center begin to gently work dough into a larger and larger circle until it reaches 14"-15" in diameter always leaving the very edges just a little higher. Take your formed dough, center it onto the pizza pan and adjust as needed.
Forming the dough into a rectangular crust: Same technique and you can just leave it on the Silpat.
Now you are going to "fork" or "dock" the dough. Begin forking just inside the edge about every ¾" around and around until you reach the center trying not to leave any large areas unforked otherwise the dough will puff and you don't want this. The idea it to keep the whole center flat but let the edges puff.
Blind bake crust until very, very lightly browned. Maybe 10-15 minutes or so.
Now that the crust is finished, you are free to put a sauce and any of your favorite topping on it so… go make that pizza.
8 Servings
154 Calories, 10.9g Protein, 9.6g Fat, 10.4g Carbs, 6.1g Fiber, 4.3g Net Carbs
6 Servings
205 Calories, 14.6g Protein, 12.8g Fat, 13.8g Carbs, 8.1g Fiber, 5.7g Net Carbs
Notes
Watch crust making sure it does not over-brown & remembering that you will be adding toppings and baking it again.
Low Carb Scams https://low-carb-scams.com/