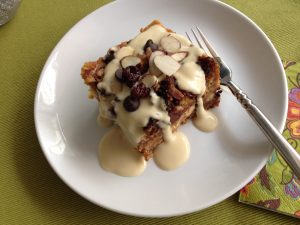 Low Carb Carbalose Cherry Almond Bread Pudding. Somewhere long ago and far away I was dabbling in the kitchen (better dabbling than babbling) and just kind of came up with this recipe. Cherries and almonds are one of those food marriages made in heaven so I thought I would run a yes, high carby version of this as a special dessert item in the restaurant and it was a hit. People would come back in to have a cup of coffee and bread pudding and I didn't have it. So…I decided to put it on the menu permanently and it stayed as a customer favorite. Here it is in its low carb form and I absolutely cannot tell any difference and since you never had my restaurant version you definitely won't know either.
Bread pudding begs for a sauce…any sauce…please, just give me a sauce and this is the way I served it in the restaurant. So simple…so good…just warm & drizzled with a little heavy cream or better yet Sweetened Condensed Milk
I don't care how you cut it traditional bread pudding has never been low carb but just a half cup with Carbalose Flour Bread is terrific and even a cup is only 6.8g net carbs and after a filling dinner?…I doubt you could begin to eat a full cup of this.
This is one of my easier recipes to make and you will need Carbalose Flour Bread cubes for it. All my other Carbalose Recipes are listed at the bottom of the Carbalose Informational Page.
For a list of products you may not be familiar with and used on this site, please read Low Carb Pantry Essentials. I am NOT sponsor-compensated for recommending a product that I use*** And here, in one tidy package, are over 550 Keto~Paleo~Low Carb~Diabetic Chef's Recipes
As I am a Type II diabetic, all recipes on this website are low carb and diabetic friendly.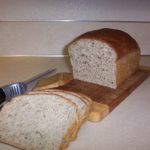 Cherry Almond Bread Pudding
2014-03-08 09:44:26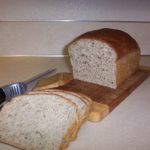 Ingredients
8 Oz. Carbalose Stale Large Bread Cubes (About 5½-6 Cups)
3 Eggs
2 C Heavy Cream
1 t Vanilla Extract
1 t Almond Extract
¼ C Sliced Almonds
½ C Chopped Canned Sour Cherries In Water (Juice Drained)
½ C Just Like Sugar or Just Like Sugar Brown
¼ C Melted Butter
8 Drops Liquid Sucralose
Directions
Leave cubed bread on the counter in a bowl overnight and when you walk by, toss it.
Preheat the oven to 325°.
Butter an 8" glass baking dish.
Whisk eggs & Just Like Sugar in a medium bowl, whisk in heavy cream, and add the rest of the ingredients except bread cubes.
Pour the liquids over the bread cubes, mix gently, let sit for 15 minutes and mix again.
Put in baking dish on a sheet pan, and bake for 35-40 minutes. Baking time varies based on staleness of bread. It's done when the middle is slightly puffy and the eggs are just cooked.
While still warm divide into 16 portions and serve drizzled with a little heavy cream.
Refrigerate leftover pudding.
16 ½ Cup Servings
198 Calories, 5.3g Protein, 16.8g Fat, 6.5g Carbs, 3.1g Fiber, 3.4g Net Carbs
8 1 Cup Servings
396 Calories, 10.5g Protein, 33.6g Fat, 13.0g Carbs, 6.2g Fiber, 6.8g Net Carbs
Low Carb Scams https://low-carb-scams.com/