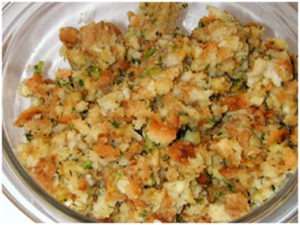 Low Carb Carbalose Bread Stuffing. What to say. This Carbalose Bread Stuffing is another way I use Carbalose Flour. Not all that often, but the problem is that I know way too many recipes and it takes me a while to cycle through a lot of them, and I have to say, I should make it more often because it is so good and a great accompaniment to many meals. Please see Carbalose Flour Bread.
For a list of products you may not be familiar with and used on this site, please read Low Carb Pantry Essentials. I am not sponsor-compensated for recommending a product that I use***
To read about Carbalose Flour please see the All Things Carbalose informational page.
As I am a Type II diabetic, all recipes on this website are low carb and diabetic friendly.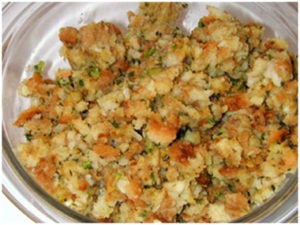 Carbalose Bread Stuffing
2014-04-28 13:53:36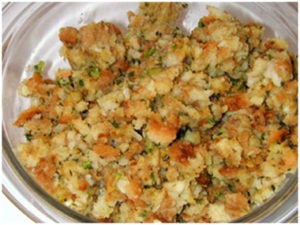 Ingredients
8 oz. Dried Carbalose Bread Cubes (5½ -6 Cups)
¾ C Small Diced Celery
¾ C Small Diced Onion
1 C Water
½ C Butter
2 Beaten Eggs
¾ t Dried Sage
¾ t Poultry Seasoning
¾ t Chicken Base
¼ t Pepper
More Water To Moisten
Instructions
Put cup water and butter in skillet, heat, and add celery & onions. Cook on low until very soft then add seasonings.
Cool slightly and add beaten eggs.
Add 1-1½ cups warm water to celery onion mixture and pour all into dried bread cubes. Mix, let sit, and add water as needed until stuffing is moist.
Butter glass baking pan and bake at 350 degrees until beginning to brown on top.
8 Servings
190 Calories, 6.5g Protein, 8.3g Carbs, 4.4g Fiber, 3.9g Net Carbs
Notes
Low Carb Additions: sautéed mushrooms, oysters, spinach, sausage, pine nuts, almonds, sugar-free cranberries, and small diced Granny Smith apples.
Your bread cubes do not need to be dried, but if they are, they soak up lots more flavor.
How we eat this: I cut out the backbone of a chicken, butterfly it, butter a piece of foil, put the stuffing roughly in the shape of a heart, put the chicken on top of the stuffing, and bake it at 350 degrees for about 1½ hours and wahoo it's so good. As the chicken cooks the juices and fat go into the stuffing.
Needless to say this goes well under/with Cornish game hen.
Low Carb Scams https://low-carb-scams.com/