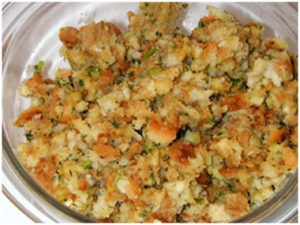 Low Carb Carbalose Bread Stuffing. What to say. This Carbalose Bread Stuffing is another way I use Carbalose Flour. Not all that often, but the problem is that I know way too many recipes and it takes me a while to cycle through a lot of them, and I have to say, I should make it more often because it is so good and a great accompaniment to many meals. Please see Carbalose Flour Bread. and you will need it to make this Carbalose Bread Stuffing.
I don't have a clue where any of you live but…if…you live either in the Pacific Northwest or British Columbia, Canada RossDown Chicken is hands down the best chicken I have eaten since I was a kid. I have tried about every chicken product there is and this IS the best-ever. Not surprisingly, I bought my first one in a Halal market here in Portland and have never looked back when buying whole chicken.
To read about Carbalose Flour please see the All Things Carbalose informational page.
For a list of products you may not be familiar with and used on this site, please read Low Carb Pantry Essentials. I am NOT sponsor-compensated for recommending a product that I use*** And here, in one tidy package, are over 550 Keto~Paleo~Low Carb~Diabetic Chef's Recipes
As I am a Type II diabetic, all recipes on this website are low carb and diabetic friendly.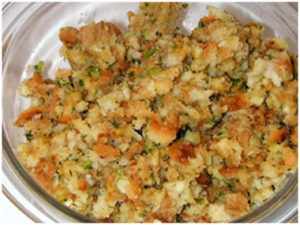 Carbalose Bread Stuffing
2014-04-28 13:53:36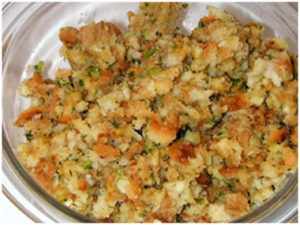 Ingredients
8 oz. Dried Carbalose Bread Cubes (5½ -6 Cups)
¾ C Small Diced Celery
¾ C Small Diced Onion
1 C Water
½ C Butter
1 T Chicken Base***
2 Beaten Eggs
1 t Dried Sage
1 t Poultry Seasoning
¼ t Pepper
More Water To Moisten
Instructions
Put cup water, butter, and chicken base in skillet, heat, and add celery & onions. Cook on low until very soft then add seasonings.
Cool slightly and add beaten eggs.
Add additional 1 C warm water to celery onion mixture and pour all into dried bread cubes. Mix, let sit, and add water as/if needed until stuffing is moist.
Butter glass baking pan and bake at 350 degrees until beginning to brown on top.
8 Servings
190 Calories, 6.5g Protein, 14.4g Fat, 8.3g Carbs, 4.4g Fiber, 3.9g Net Carbs
Notes
Low Carb Additions: sautéed mushrooms, oysters, spinach, sausage, pine nuts, almonds, sugar-free cranberries, and small diced Granny Smith apples.
How we eat this: I cut out the backbone of a chicken, butterfly (spatchcock) it, butter a piece of foil, put the stuffing roughly in the shape of a heart, put the chicken on top of the stuffing, and bake it at 375 degrees for about 1¼-1½ hours and wahoo it's so good. As the chicken cooks the juices and fat go into the stuffing.
Needless to say this goes well under/with Cornish game hen.
Low Carb Scams https://low-carb-scams.com/