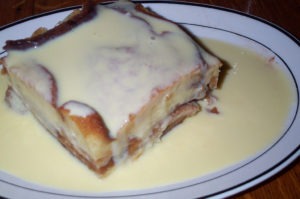 Low Carb Carbalose Bread Pudding-Vanilla Cream Drizzle. What to say. Simple & tasty and it will feed an army.
All my other Carbalose Recipes are listed at the bottom of the Carbalose Informational Page.
For a list of products you may not be familiar with and used on this site, please read Low Carb Pantry Essentials. I am NOT sponsor-compensated for recommending a product that I use*** And here, in one tidy package, are over 550 Keto~Paleo~Low Carb~Diabetic Chef's Recipes
As I am a Type II diabetic, all recipes on this website are low carb and diabetic friendly.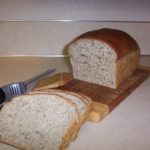 Bread Pudding With Vanilla Cream Drizzle
2014-03-10 07:37:49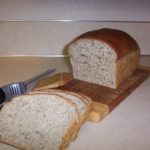 Pudding
8 Oz. Stale Carbalose Large Bread Cubes (About 5½-6 Cups)
3 Eggs
2 C Heavy Cream
1 T Vanilla Extract
½ C Just Like Sugar or Just Like Sugar Brown***
¼ C Melted Butter
8 Drops Liquid Sucralose***
Vanilla Cream Drizzle
1 C Heavy Cream
12 Drops EZ-Sweetz Liquid Sucralose*** or Equivalent Sweetener
⅛ t Each Xanthan Gum & Guar Gum (I just keep mine mixed 50-50)
¼ t Vanilla Extract
2 T Cold Butter
Pudding
Leave cubed bread on the counter in a bowl overnight and when you walk by, toss it.
Preheat the oven to 325°.
Butter an 8" glass baking dish.
Whisk eggs & Just Like Sugar in a medium bowl, whisk in heavy cream, add the melted butter & Sucralose and whisk one more time.
Pour the liquids over the bread cubes, mix gently, let sit for 15 minutes and mix again.
Put in baking dish on a sheet pan, and bake for 35-40 minutes. Baking time varies based on staleness of bread. It's done when the middle is slightly puffy and the eggs are just cooked.
Divide into 16 portions,serve warm, and drizzle with vanilla cream.
Refrigerate leftover pudding.
Vanilla Cream Drizzle
Whisk and begin heating heavy cream, sweetener and both gums and cook very slowly, whisking occasionally until reduced and thickened. This should take about 12-13 minutes or so.
Remove from heat, add vanilla, and beat in butter 1 T at a time.
This is essentially now a sweetened condensed milk and may be used as such in other recipes. Taste it-you'll see.
Nutritionals-Pudding
12 ¾ Cup Servings
260 Calories, 4.9g Protein, 24.1g Fat, 5.1g Carbs, 3.0g Fiber, 2.1g Net Carbs
8 1 Cup Servings
390 Calories, 7.3g Protein 36.1g Fat, 7.7g Carbs, 4.5g Fiber, 3.2g Net Carbs
Nutritionals-Drizzle
1 T 16 Servings
64 Calories, .3g Protein, .4g Carbs, 0g Fiber, .4g Net Carbs
Notes
Be careful with the drizzle because it is easy, easy, easy to eat, eat, eat…with a spoon. This stuff is good on a brick.
Low Carb Scams https://low-carb-scams.com/