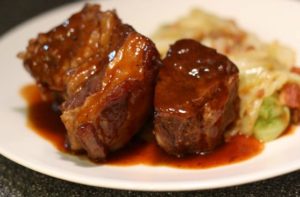 Low Carb Braised Short Ribs. Not much better comfort food than short ribs and they are so simple to prepare. A little work in the beginning and then just left alone to simmer for 3½-4 hours. I personally think these are perfect for that Sunday afternoon dinner.
If you end up with leftovers all the better as they make a terrific breakfast, or take-to-work lunch.
By processing your mirepoix I want you to think about all that SURFACE AREA YOU WILL BE USING TO YOUR ADVANTAGE
This dish pairs nicely with Cheesy Creamed Cabbage/Bacon and/or over mashed cauliflower.
For a list of products you may not be familiar with and used on this site, please read Low Carb Pantry Essentials. I am NOT sponsor-compensated for recommending a product that I use*** And here, in one tidy package, are over 550 Keto~Paleo~Low Carb~Diabetic Chef's Recipes
As I am a Type II diabetic, all recipes on this website are low carb and diabetic friendly.
Braised Short Ribs
2015-05-03 11:45:16
Ingredients
6 Lbs Meaty Bone-In Short Ribs (Cut To About 3")
2 T Olive Oil
1 Medium Onion Roughly Chopped
2 Celery Ribs Roughly Chopped
2 Peeled Carrots Roughly Chopped
1 T Crushed Garlic
1 Can Tomato Paste
3 C Any Good Red Wine
1 C Water
1½ t Ground Dried Thyme
2 Bay Leaves
2 T Beef Base
Salt & Pepper As/If Necessary
Instructions
Season short ribs generously with salt. To a large skillet, add 2 T olive oil and bring to medium high heat. Add 6-7 short ribs and brown well, about 2-3 minutes per side. Do not overcrowd and cook in batches until finished. When the short ribs are browned on all sides, transfer to a small roasting pan.
While the short ribs are browning, puree all the vegetables and garlic in a food processor until it forms a coarse paste.
Leaving all fat in skillet, add the pureed vegetables. Season generously with salt and brown until vegetables are very dark and crud has formed on the bottom of the pan. Scrape, mix the crud, and repeat. Scrape one more time and add tomato paste. Turn heat to medium and brown the tomato paste for 4 to 5 minutes. Add the wine, scrape the bottom of the pan, add water, beef base, thyme, & bay leaves and add all to ribs, tightly cover with foil, turn oven to 225°, and simmer 3½-4 hours.
Turn the ribs halfway through the cooking time and add any water only if necessary. Remove the foil during the last 20 minutes and let the sauce reduce a bit.
When done the meat should be very tender but not falling apart and the bones will probably fall out. Serve ribs and cover with sauce.
8 Servings
706 Calories, 21.5 g Protein, 64.1g Fat 13.0g Carbs, 2.1g Fiber, 10.9 Net Carbs
Notes
To strain or not. The vegetables will have given up every ounce of flavor so if you like a smoother gravy then strain it-otherwise just eat em up and for whatever it's worth I do not strain my sauce & I do not drain any fat and one other option: Use a stick blender to make it smooth.
If you are lucky enough to have an 11x15 glass baking dish it should fit all ribs very well-just remember to tightly seal it with foil.
You can certainly cut the recipe in half & simmer on the stovetop but the leftover are heavenly.
Low Carb Scams https://low-carb-scams.com/