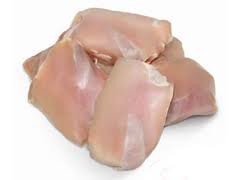 Low Carb Boneless Chicken Thighs With Thai Peanut Sauce. All you need is a recipe of Thai Peanut Sauce and boneless chicken thighs and that's about it. Can't think of a much quicker thing to make for dinner even if you do have to make the sauce. I do have the sauce in my refrigerator almost all the time and when I run out I make it again because I use it a lot and it lasts forever. (It won't).
For a list of products you may not be familiar with and used on this site, please read Low Carb Pantry Essentials. I am NOT sponsor-compensated for recommending a product that I use*** And here, in one tidy package, are over 550 Keto~Paleo~Low Carb~Diabetic Chef's Recipes
As I am a Type II diabetic, all recipes on this website are low carb and diabetic friendly.
Boneless Chicken Thighs/Thai Peanut Sauce
2015-01-19 12:44:51
Ingredients
4 Boneless Chicken Thighs
¼ C Peanut Flour
2 T Butter
Salt To Taste
Instructions
Pound thighs until about ¼" thick.
Dredge in peanut flour.
Heat butter until beginning to brown and put thighs in pan top down.
Cook until juices begin coming to the top and then flip and cook until finished.
Plate thighs.
Salt.
Top with 1 T peanut sauce. You can add more but it doesn't take much.
4 Servings
192 Calories, 19.6g Protein, 10.8g Fat, 4.0g Carbs, .5g Fiber, 3.5g Net Carbs
Notes
You don't even have to use the peanut flour but it truly does give them a gorgeous golden brown color.
Confession: I can sometimes eat two thighs.
Low Carb Scams https://low-carb-scams.com/