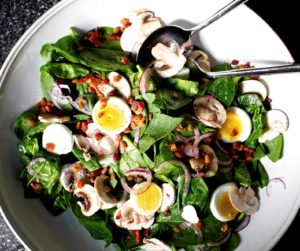 Low Carb Bacon Egg Spinach And Onion Salad. There is a very funny true story which leads to the recipe. Way back in the day I often had a hard time being invited to anyone's house for dinner because of the way I cooked. Sadly, my insecure friends were intimidated. They had all been to my house for dinner multiple times and were convinced they could not make something suitable that I would eat. I finally just kinda got mad and told them that I loved pot roast, pretty much thinking anyone can fix an edible pot roast and until they invited me for dinner I would not have them over again. Sooo, my friend Carol said she could make a pretty good one and invited me for dinner. WOW, don't always believe someone when they say they make a pretty mean pot roast because I am here to tell you her pot roast was mean and not in such a good way. Apparently she put a frozen chunk of meat in her slow cooker at 2:00 in the afternoon and I was to come at 5:30. When I got there the roast was still frozen in the center and would probably have needed another 4-5 hours to cook. Oh Lordy, and what to do. I got on the phone to our local grocery that spit-cooked X number of chickens per day and yes, I asked them to hold the last one while I drove over to pick it up. Meanwhile Carol peeled and started cooking the potatoes. We (I) had decided mashed might be better. Well we ate that chicken with mashed potatoes at about 7:00 but laugh? Oh yeah, we laughed alright and to this day nearly 20 yrs later we still laugh about it. Did Carol ever finally make pot roast for me? Not on your life.
After I had moved I met other people who could cook and were not in the least bit worried about serving me a terrific meal and Dorothy was one of those people. I asked for her salad recipe and here it is. The only things I have subbed are toasted almonds in place of water chestnuts, a sugar-free ketchup and Just Like Sugar which is paleo.
For a list of products you may not be familiar with and used on this site, please read Low Carb Pantry Essentials. I am NOT sponsor-compensated for recommending a product that I use*** And here, in one tidy package, are over 550 Keto~Paleo~Low Carb~Diabetic Chef's Recipes
As I am a Type II diabetic, all recipes on this website are low carb and diabetic friendly.
Bacon, Egg, Spinach, & Onion Salad
2015-06-18 08:07:17
Ingredients
10 Oz Clamshell Fresh Spinach
½ Lb Chopped Fried Bacon
½ Thinly Cut Red Onion
¼ C Sliced Toasted Almonds
6 Chopped Or Sliced Hard Boiled Eggs
3 Thinly Sliced Medium Button Mushrooms
⅓ C Red Wine Vinegar
⅓ C Olive Oil
1½ T Sugar-Free Ketchup***
1½ T Worcestershire Sauce
1 T Just Like Sugar***
Fresh Cracked Pepper
Instructions
Fry bacon, cool, & crumble.
Dump greens, bacon, red onion, mushrooms, & eggs into bowl and gently toss.
Barely heat vinegar and Just Like Sugar to dissolve.
Put olive oil, ketchup, Worcestershire sauce and vinegar mixture in a small jar and shake vigorously.
Pour dressing over salad and toss again.
Plate and evenly distribute salad.
Garnish with toasted almonds.
Grind on the pepper
6 Servings
297 Calories, 6.9g Protein, 27.7g Fat, 4.9g Carbs, 2.0g Fiber, 2.9g Net Carbs
Notes
If you happen to have a jicama hanging around, if thinly sliced & cut about the size of a nickel, it also makes a good water chestnut substitution.
Low Carb Scams https://low-carb-scams.com/